Methodology article

Open Access
A versatile approach to multiple gene RNA interference using microRNA-based short hairpin RNAs
BMC Molecular Biology
2007
8:98
Received: 01 June 2007
Accepted: 30 October 2007
Published: 30 October 2007
Abstract
Background
Effective and stable knockdown of multiple gene targets by RNA interference is often necessary to overcome isoform redundancy, but it remains a technical challenge when working with intractable cell systems.
Results
We have developed a flexible platform using RNA polymerase II promoter-driven expression of microRNA-like short hairpin RNAs which permits robust depletion of multiple target genes from a single transcript. Recombination-based subcloning permits expression of multi-shRNA transcripts from a comprehensive range of plasmid or viral vectors. Retroviral delivery of transcripts targeting isoforms of cAMP-dependent protein kinase in the RAW264.7 murine macrophage cell line emphasizes the utility of this approach and provides insight to cAMP-dependent transcription.
Conclusion
We demonstrate functional consequences of depleting multiple endogenous target genes using miR-shRNAs, and highlight the versatility of the described vector platform for multiple target gene knockdown in mammalian cells.
Keywords
Entry VectorMurine Macrophage Cell LineExpression PlatformMultiple Gene TargetSpecific Knockdown
Background
The discovery of RNA interference (RNAi) and its use as an experimental tool has heralded a new era in functional genomics [1, 2]. The ability of short interfering RNA (siRNA) to perturb expression of any gene target highlights the enormous potential of this technique. However, siRNA delivery into primary cells, cell lines that are difficult to transfect and delivery to specific cell types in vivo remains a key technical issue.
A variety of vector-based approaches, which express siRNAs as short hairpin (sh)RNAs, have been developed to permit delivery through viral vectors [
3
]. Designing such shRNA in the context of a naturally occurring RNA polymerase (pol) II-driven microRNA transcript (miR-shRNA; Fig.
1a
) increases the flexibility of this approach allowing for conditional and cell type-specific expression [
4
–
11
]. The observation that some endogenous microRNAs (miRNA) are processed from single transcripts containing multiple primary miRNA sequences [
12
,
13
] adds to the potential experimental utility of this approach to RNAi. In using RNAi as an experimental tool, the ability to effectively deplete multiple gene targets is vital to address the issue of isoform redundancy, especially in mammalian cell systems. Thus, a flexible vector platform that allows for effective multi-gene knockdown in essentially any cell system would be of great value.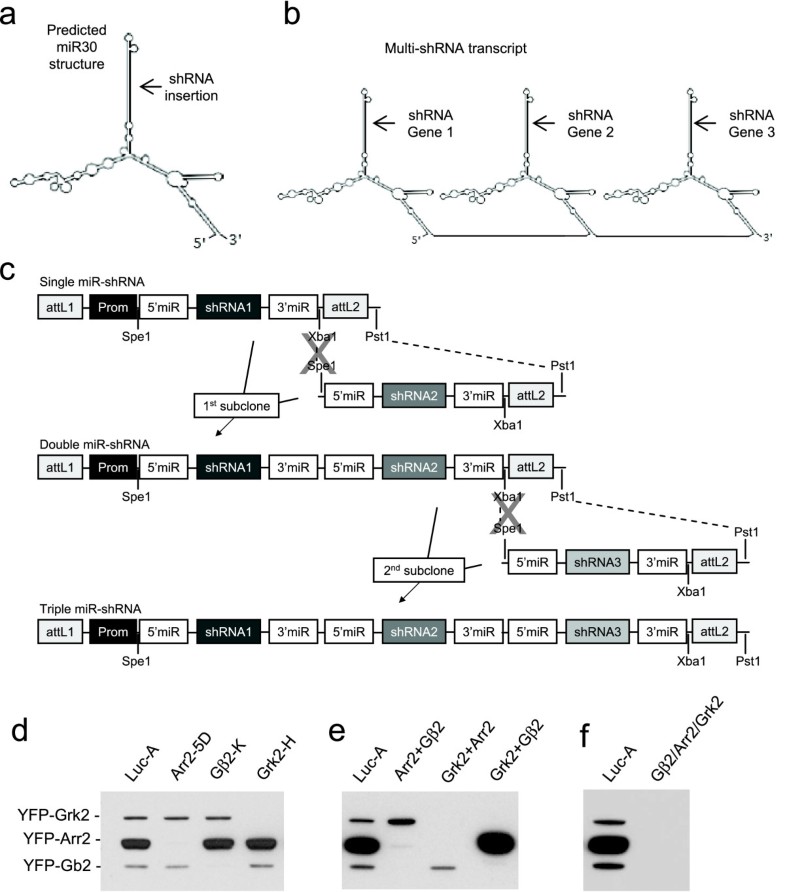 We report the development of a versatile system which permits the knockdown of multiple target genes from a single transcript, and we show efficient depletion of endogenous pairs of signaling genes in the RAW264.7 murine macrophage-like cell line. Importantly, we demonstrate the absolute requirement for multi-gene depletion to observe phenotypes in processes dependent on proteins with redundant isoforms.
Results and discussion
Using our multi-miR-shRNA expression platform, we demonstrate potent knockdown of up to three genes in transient expression studies (Fig. 1d–f) and three different pairs of endogenous genes after viral infection of a murine macrophage cell line (Fig. 3b–e). This approach has great potential for experimental strategies or clinical applications requiring depletion of multiple gene targets in cells with low transduction efficiency. It should be noted however, that the presence of increasing numbers of miR-shRNA cassettes in a viral transcript leads to a gradual reduction in viral titer (see Additional file 2), likely due to Drosha cleavage of the viral transcript during packaging. Despite this titer reduction, we were able to achieve viral titers of >1 × 106 pfu/ml from unconcentrated supernatants of lentivirus expressing three miR-shRNAs, well within the practical range for infection of most intractable cells.
Conclusion
We have developed an flexible cloning platform for generation of plasmid vectors and viruses expressing miR-shRNAs against multiple target genes. The ability to express multiple engineered miR-shRNA cassettes from a single transcript has been previously reported [5, 11], and recent reports have shown that it can also be used to improve knockdown efficiency by expressing multiple miR-shRNA against the same target gene [22, 23] and to promote multi-gene knockdown [22–24]. However, Refs.22 and 24 used intron-based expression of miR-shRNA cassettes from plasmids introduced into easily transfected cell lines, which is not compatible with the viral based approaches required with less tractable cell systems. To our knowledge, our data are the first to demonstrate functional consequences of depleting multiple endogenous target genes in mammalian cells using miR-shRNA where multi-gene knockdown is necessary to observe a phenotype (Fig. 4). We believe that the versatility of the vectors we describe here make them a valuable resource to the research community. Although we clone shRNAs into our entry vectors using BfuAI compatible linkers, we include Xho I and Eco RI cloning sites in the flanking miR30 sequence to allow subcloning of miR-shRNAs from popular whole genome libraries [2, 7] into our plasmids (Fig. 2b). Any shRNA subcloned by either of these methods is then compatible for concatenation in a multi-miR-shRNA transcript (Fig. 1c).
Availability and requirements
In accordance with the policy of the Alliance for Cellular Signaling (AfCS), all the vectors described in this study will be readily available through the American Type Culture Collection. Details will be provided at http://www.signaling-gateway.org/data/plasmid/.
Declarations
Acknowledgements
We are grateful to colleagues in the AfCS for discussions and technical advice and to Lucas Cheadle for technical assistance. We thank Linda Holloway, Jason Cooper and Unice Na at the ATCC for assistance in making the plasmids described in this study available to the research community. This work was supported by contributions from public and private sources, including the NIGMS Glue Grant Initiative (U54 GM062114). A complete listing of the Alliance for Cellular Signaling (AfCS) sponsors can be found on the AfCS website [29].
Authors' Affiliations
(1)
Division of Biology, The Alliance for Cellular Signaling, California Institute of Technology, Pasadena, USA
Copyright
© Zhu et al; licensee BioMed Central Ltd. 2007
This article is published under license to BioMed Central Ltd. This is an Open Access article distributed under the terms of the Creative Commons Attribution License (http://creativecommons.org/licenses/by/2.0), which permits unrestricted use, distribution, and reproduction in any medium, provided the original work is properly cited.