Research article
Open Access
Construction of an adult barnacle (Balanus amphitrite) cDNA library and selection of reference genes for quantitative RT-PCR studies
BMC Molecular Biology
2009
10:62
Received: 12 December 2008
Accepted: 24 June 2009
Published: 24 June 2009
Abstract
Background
Balanus amphitrite is a barnacle commonly used in biofouling research. Although many aspects of its biology have been elucidated, the lack of genetic information is impeding a molecular understanding of its life cycle. As part of a wider multidisciplinary approach to reveal the biogenic cues influencing barnacle settlement and metamorphosis, we have sequenced and annotated the first cDNA library for B. amphitrite. We also present a systematic validation of potential reference genes for normalization of quantitative real-time PCR (qRT-PCR) data obtained from different developmental stages of this animal.
Results
We generated a cDNA library containing expressed sequence tags (ESTs) from adult B. amphitrite. A total of 609 unique sequences (comprising 79 assembled clusters and 530 singlets) were derived from 905 reliable unidirectionally sequenced ESTs. Bioinformatics tools such as BLAST, HMMer and InterPro were employed to allow functional annotation of the ESTs. Based on these analyses, we selected 11 genes to study their ability to normalize qRT-PCR data. Total RNA extracted from 7 developmental stages was reverse transcribed and the expression stability of the selected genes was compared using geNorm, BestKeeper and NormFinder. These software programs produced highly comparable results, with the most stable gene being mt-cyb, while tuba, tubb and cp1 were clearly unsuitable for data normalization.
Conclusion
The collection of B. amphitrite ESTs and their annotation has been made publically available representing an important resource for both basic and applied research on this species. We developed a qRT-PCR assay to determine the most reliable reference genes. Transcripts encoding cytochrome b and NADH dehydrogenase subunit 1 were expressed most stably, although other genes also performed well and could prove useful to normalize gene expression studies.
Keywords
cDNA LibrarySoftware geNormReliable Reference GeneAdult BarnacleBestKeeper Index
Background
Many marine invertebrates have a pelagobenthic life cycle and biofouling by many of these species has a considerable economic impact in marine environments [1]. Consequently, it is essential to understand the mechanisms regulating the transition between the free-living planktonic larvae and the benthic adult stage. The barnacle Balanus amphitrite [2] is a sessile gregarious species that is a model organism for both fundamental and applied larval settlement studies due to its invasive behaviour, its worldwide distribution, and the relative simplicity of manipulating its reproduction in the laboratory. The life cycle of B. amphitrite is characterized by the presence of six planktonic naupliar stages (naupliar instar I-VI) followed by a non-feeding larval stage, the cyprid, that is specialized to explore the substratum in order to locate a suitable place for permanent attachment. A number of behavioural studies have shown that B. amphitrite cyprids respond to biotic and abiotic factors as they explore the substratum [3–5]. To date however, the paucity of genomic information available for this organism has hindered in-depth mechanistic studies of the surface colonization process.
Expressed sequence tag (EST) surveys are fundamental for discovering new genes [6] and they represent an essential step for the molecular characterization of the species of interest. In addition, EST-derived information supports genomic sequence annotation by suggesting intron/exon boundaries and the existence of previously undescribed transcription units; consequently, mRNA sequences are invaluable in comparative genomics [7]. We have therefore prepared an un-substracted cDNA library from adult B. amphtrite to identify the most expressed genes within the first few hundreds ESTs. We hope that the application of molecular probes developed from this EST library, in combination with standard methods for behavioural analysis, will allow us to better understand the timing and intensity of gene expression during different life history stages of B. amphitrite. Furthermore, few studies have investigated the regulation of the pelagobenthic life-cycle at a molecular level [8, 9], despite its broad distribution in marine invertebrates [10]. Barnacles are good candidates to become a model system for this purpose, and the development of new molecular tool for these organisms could help to answer fundamental biological questions related to marine life.
Quantitative real-time PCR (qRT-PCR) is regarded as the most sensitive and reliable method to determine levels of mRNA transcription [11, 12]. The application of qRT-PCR has proved particularly useful for comparative studies, where the expression of genes of interest (GOIs) in different samples is measured against the expression of endogenous reference genes (RGs). This normalization procedure is fundamental to minimize inherent variability introduced during the RNA extraction or the reverse transcription steps [13, 14]. Ideally, RGs should both maintain a stable transcription level in all cells, tissues or individuals under investigation and should not be influenced by the experimental conditions. Unfortunately, many studies have shown that universal RGs for data normalization do not exist and for this reason, the selection of the best RGs should be validated for every new qRT-PCR assay [15].
Here, we describe the first characterization of the B. amphitrite transcriptome that is based on the creation of an EST library from adult individuals. The sequencing and annotation of 960 clones provides the background for further analysis of life-cycle regulation in this organism. We also established a qRT-PCR assay to monitor gene expression in different developmental stages and in individuals exposed to morphogenetic cues. The ability of 11 B. amphitrite transcripts to normalize qRT-PCR data was determined by comparing relative quantities obtained from cDNAs representing 14 different samples and 7 developmental stages. The software geNorm [16], BestKeeper [17]and Normfinder [18] were used to obtain an estimation of the expression stability of each gene and, by comparing the results, to identify the most suitable genes for qRT-PCR data normalization in B. amphitrite.
Results and discussion
Annotation of sequences from the ESTs library
Balanus amphitrite
is one of the most extensively studied barnacles and has been suggested as a candidate genetic model for larval settlement and metamorphosis [
19
]. Recently, Thiyagarajan and Qian used a proteomics approach to investigate settlement regulation in this organism [
20
]. However, they argued that the lack of deposited gene sequences hindered a full appreciation of their results. The creation of an adult
B. amphitrite
cDNA library, the sequence of 960 clones (of which 55 were excluded from our analysis as they showed insert length shorter than 50 bp) and the detection of 530 singlets and 79 tentative contiguous (TC) sequences (a summary of the EST survey is given in table
1
) is thus an important first-step towards understanding the molecular ecology of this barnacle. Among the 609 different genes we report, 107 appeared to be of mitochondrial origin and 75 showed similarities with previously published ribosomal sequences. Gene ontology entries [
21
] revealed that the main categories of the genes found in our library appear to be involved in electron transport, protein biosynthesis, catalytic activity, metal ion binding, metabolism and the biogenesis of structural elements such as muscle and cuticle (Figure
1
). Approximately 38% of the unique sequences we obtained have been functionally annotated and a corresponding gene name proposed, and informative annotation has been given for an additional 18%. Of the remaining ESTs, 8% had a BLAST match with uncharacterized transcripts and 37% showed no appreciable similarity to previously published sequences. This distribution of ESTs among known/uncharacterized/unknown genes does not differ substantially from that found in recent EST surveys on other marine invertebrates [
22
,
23
]. We also determined several transcripts that were highly similar to sequences derived from the deposited complete mitochondrial genomes of the two barnacles
Megabalanus volcano
and
Tetraclita japonica
.
Table 1
Classification of Balanus amphitrite ESTs
| Search method | Putative source | E-value | Annotation | N° of sequences |
| --- | --- | --- | --- | --- |
| Blast2n vs nt | | | | 457 |
| InterPro | | | | 438 |
| Blast2x vs SP | | | | 458 |
| Blast2x vs KEGG | | | | 500 |
| | | | Functionally annotated | 449 |
| | | | Unassigned ESTs | 149 |
| | | | Unknown ESTs | 307 |
| | Ribosomal RNA | | | 123 |
| | Mitochondrial DNA | | | 202 |
| | Genomic DNA | | | 580 |
| | | < e-30 | | 191 |
| | | > e-30 | | 407 |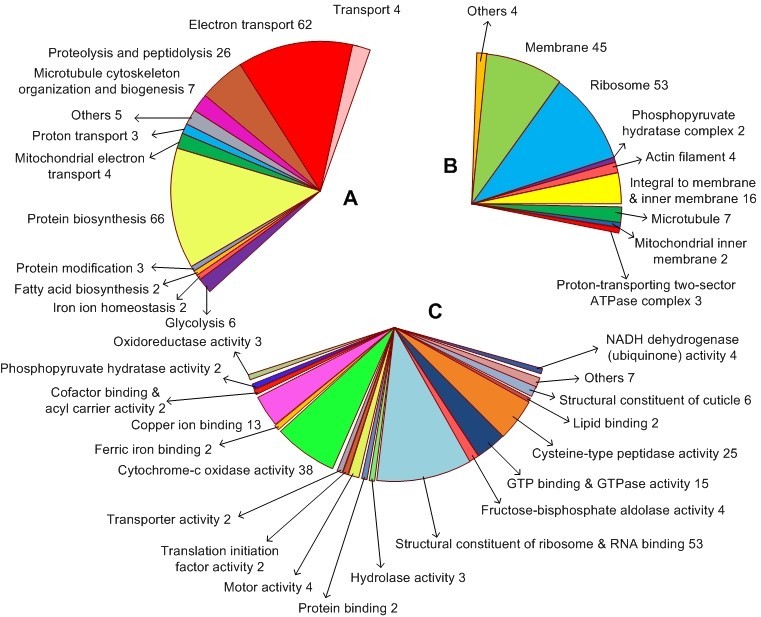 Fragment assembly generated a total of 79 TC comprising 375 ESTs. Sequences belonging to 8 different TCs were particularly frequent in our library, with the most common being an unassigned mitochondrial gene partly similar to 16S rRNA (with 52 entries), followed by cytochrome c oxidase subunit I (31), cysteine proteinase (17), cytochrome c oxidase subunit II (14), cytochrome b (12), a ribosomal RNA internal transcribed spacer (12), cytochrome c oxidase subunit III (11) and the elongation factor 1-α (11). The longest TC generated was 1703 nucleotides and translated for the18S rRNA gene. Considering the 609 unique sequences we obtained, a total of 280 had a match in the NCBI nucleotide database. A taxonomic subdivision of the first hit produced by these 280 transcripts showed that 109 of them matched sequences from barnacles. The remaining sequences were represented among insects, vertebrates, arachnids, plants, fungi and various other groups (79, 53, 6, 8, 5 and 19 sequences, respectively). To annotate B. amphitrite's genes, the proposed nomenclature for Drosophila melanogaster was used as a guide http://flybase.org and the corresponding gene symbol established in D. melanogaster was used when possible. However, in a slight departure, we decided to use the prefix mt- to identify mitochondrial genes.
Validation of best reference genes for qRT-PCR
Our main interests focus on elucidating those genes involved in barnacle settlement. In this respect, qRT-PCR is particularly suitable to monitor how external cues, such as environmental variables, the presence of conspecific individuals or the occurrence of biofilm and/or of certain microorganisms, influence gene expression prior to and during settlement and metamorphosis. Since most of the annotated ESTs we found represent highly expressed housekeeping genes, this suggests that information from a few hundred clones derived from a cDNA library is sufficient to validate RGs for subsequent qRT-PCR studies.
As a general consideration, although geNorm, BestKeeper and NormFinder have the same aim, they employ different strategies to calculate the most stable genes and it is unlikely that they will give the same results. For example, looking at the absolute ranking of best genes, mt-acp scored 5th, 9th and 3rd. However, its stability values as determined by the tree software do not change substantially from that of the genes ranked closely (e.g. the value obtained by BestKeeper for mt-acp (9th) was 1.98 and that of act (4th) was 1.78). Finally, it was noted that Ct values for the best RGs tended to increase during the life cycle. This was particularly evident with the cDNA derived from adult barnacles, which required ~3 to 4 more cycles to reach the PCR exponential phase in comparison to the cDNA from larvae that had just hatched (Figure 3). While we cannot exclude the possibility that the genes analysed are down-regulated in the adult stage, this trend could also be explained by the presence of reverse transcription inhibitors that concentrate or are synthesized in later stages of B. amphitrite development, as RT-inhibitors are known to be one of the main sources of variability in qRT-PCR experiments [13]. Although the CT value shifts remained in an acceptable range, it may be advisable to include a reference assay to rule out the presence of inhibitors. This is commonly achieved by adding an aliquot of the RNA under investigation to a well characterised exogenous RNA and measuring the effect on the amplification of the cDNA derived from the latter [24, 25].
Conclusion
Balanus amphitrite is already established as a model organism to study the pelagobenthic life cycle. Here, we have presented the first cDNA library sequenced from adult B. amphitrite. We are currently generating three further normalized EST libraries for the developmental stages of nauplius I, cyprid and adult, and we estimate that another 15,000 sequences will be available soon. The addition of this genetic information will serve as an invaluable tool to investigate gene expression in barnacles. The three programs implemented to analyse qRT-PCR results indicated that tuba, tubb and cp1 are unsuitable genes for data normalization. They also showed that mt-cyb itself, and the pair mt-cyb – mt-nd1, were the genes expressed most stably throughout life cycle of B. amphitrite, and so we recommend their use as reliable reference genes in future qRT-PCR experiments. Other genes that performed well in our analyses were mt-acp, rpl15, mt-nd4L, ef1a, ubc and act.
Declarations
Acknowledgements
The authors would like to thank Dr T. Taybi and Dr J. D. Barnes from the Institute for Environment and Sustainability, Newcastle University, for providing help and access to Real-Time PCR equipments. We also thank Dr V. Mittard Runte, K. Henckel and Dr A. Goesmann from the CeBiTec, Bielefeld University, for their support and contribution throughout the annotation process. This study was funded by Marine Genomics Europe, EU Network of Excellence award to ASC (ref: 505403).
Authors' Affiliations
(1)
School of Marine Science and Technology, Ridley Building, Newcastle University, England, UK
(2)
Dove Marine Laboratory, Newcastle University, England, UK
(3)
Stazione Zoologica Anton Dohrn, Napoli, Villa Comunale, Italy
(4)
Center for Biotechnology (CeBiTec), Bielefeld University, Bielefeld, Germany
(5)
School of Biological Sciences, University of Plymouth, PlymouthEngland, UK
Copyright
© Bacchetti De Gregoris et al; licensee BioMed Central Ltd. 2009
This article is published under license to BioMed Central Ltd. This is an Open Access article distributed under the terms of the Creative Commons Attribution License (http://creativecommons.org/licenses/by/2.0), which permits unrestricted use, distribution, and reproduction in any medium, provided the original work is properly cited.