Research article

Open Access
Requirements for E1A dependent transcription in the yeast Saccharomyces cerevisiae
BMC Molecular Biology
2009
10:32
Received: 17 December 2008
Accepted: 17 April 2009
Published: 17 April 2009
Abstract
Background
The human adenovirus type 5 early region 1A (E1A) gene encodes proteins that are potent regulators of transcription. E1A does not bind DNA directly, but is recruited to target promoters by the interaction with sequence specific DNA binding proteins. In mammalian systems, E1A has been shown to contain two regions that can independently induce transcription when fused to a heterologous DNA binding domain. When expressed in Saccharomyces cerevisiae, each of these regions of E1A also acts as a strong transcriptional activator. This allows yeast to be used as a model system to study mechanisms by which E1A stimulates transcription.
Results
Using 81 mutant yeast strains, we have evaluated the effect of deleting components of the ADA, COMPASS, CSR, INO80, ISW1, NuA3, NuA4, Mediator, PAF, RSC, SAGA, SAS, SLIK, SWI/SNF and SWR1 transcriptional regulatory complexes on E1A dependent transcription. In addition, we examined the role of histone H2B ubiquitylation by Rad6/Bre1 on transcriptional activation.
Conclusion
Our analysis indicates that the two activation domains of E1A function via distinct mechanisms, identify new factors regulating E1A dependent transcription and suggest that yeast can serve as a valid model system for at least some aspects of E1A function.
Keywords
Chromatin Remodelling Complex
Transcriptional Activation Domain
Saga Complex
Inhibit Yeast Growth
Dependent Transcriptional Activation
Background
Human adenovirus type 5 (HAdV-5) early region 1A (E1A) is the first viral gene expressed during infection and plays a critical role in transcriptional activation [
1
,
2
]. The primary E1A transcript is differentially spliced, yielding mRNAs encoding two major products of 289 residues (R) and 243R respectively (Figure
1A
). These proteins share identical amino and carboxyl sequences and only differ by the presence of an additional 46 amino acids in the 289R protein [
2
,
3
]. The region unique to the 289R E1A protein is highly conserved amongst the E1A proteins of different adenovirus serotypes, and is referred to as conserved region 3 (CR3) [
4
–
6
]. The 289R E1A protein is thought to be primarily responsible for activation of gene expression, as mutations within CR3 generally abolish E1A transactivation [
7
–
11
]. An adjacent acidic region spanning residues 189–200, termed Auxiliary Region 1 (AR1), is also essential for efficient transactivation of early viral promoters by E1A [
12
].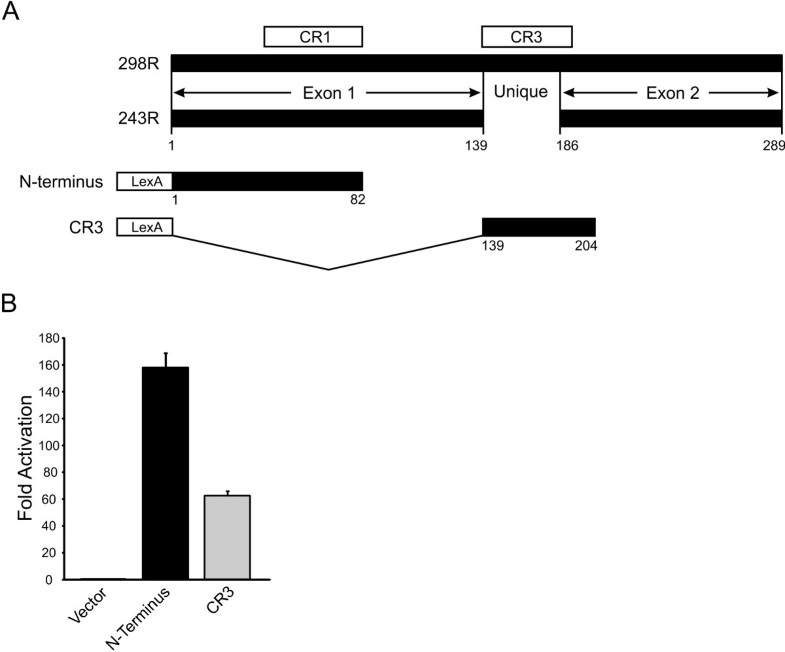 The mechanism by which CR3 of E1A activates transcription has been studied intensely. CR3 binds numerous sequence specific transcription factors [13–17] via a promoter targeting region embedded within CR3 [15]. These interactions are thought to localize E1A to target promoters in the infected cell. When tethered to DNA by fusion to a heterologous DNA binding domain (DBD), the need for the promoter targeting region is bypassed and CR3 functions as a powerful transcriptional activator [18].
Mutations within the promoter targeting region exhibit a dominant negative effect on transcriptional activation by wild-type E1A [19, 20], suggesting that these mutants sequester limiting factors necessary for transactivation by wild-type E1A. The first of these limiting factors to be identified was TBP [21]. The Sur2/TRAP150β/Med23 component of the Mediator/TRAP complex was identified to be the second critical target of CR3 [22, 23]. Distinct roles for different proteasome complexes and p300/CBP in CR3 dependent transcription have also been shown [24, 25].
When fused to a heterologous DBD, a second transactivation domain was identified within the N-terminal/CR1 portion of E1A [26]. This region of E1A binds multiple transcriptional regulators, including the p300, CBP (CREB Binding Protein) and pCAF acetyltransferases, TBP, TRRAP and p400 [27]. Paradoxically, this region functions as a transcriptional repression domain in the context of the E1A 243R protein by sequestering limiting factors, such as p300 and CBP, from cellular transcription factors [2]. Indeed, recent work has shown that expression of E1A 12S induces global changes in histone H3 K18 acetylation, consistent with the sequestration/retargeting of p300/CBP by E1A [28].
E1A is the product of a virus that infects human cells. However, both domains of E1A that function in mammalian cells as transcriptional activators when fused to a heterologous DBD also function as transcriptional activators in yeast [29]. Indeed, yeast have been exploited extensively as a model system to genetically study the mechanisms of E1A action [30–33, 29, 24].
Using a yeast model system, we have evaluated the role of histone modifying and chromatin remodelling complexes on the activity of the two transcriptional activation domains of HAdV-5 E1A. These results show that the two activation domains of E1A function via distinct but overlapping mechanisms and suggest that yeast can serve as a valid model system for identifying new targets of E1A involved in transcriptional regulation.
Conclusion
In conclusion, our analysis of the influence of chromatin remodelling and histone modifying complexes on E1A dependent activation of transcription in S. cerevisiae provides new evidence that there are many similarities, and some differences between transcriptional control by E1A in yeast and mammalian cells. Thus, functional analysis of E1A in yeast using genetic approaches has the potential to uncover novel mechanistic aspects of E1A function. Furthermore, genome wide analysis of E1A activity in yeast has the potential to identify novel pathways that also influence E1A function in mammalian cells.
Methods
Yeast strains, media, and plasmid construction
The yeast strains used along with their sources are listed in Additional file 4. Yeast culture media were prepared using standard techniques [57]. The reporter plasmid pSH1834 (8LexA operators-LacZ) was obtained from Invitrogen Corporation. A derivative of this plasmid that can be integrated into the GAL1 locus was constructed by PCR of the reporter cassette, which was subcloned into the pRS306 vector using KpnI and XbaI. The sequences of the oligos used for PCR were GCATCTAGAGGCAGCTG TCTATATGAATTACTCGAGACTAAATCTCATTCAGAAGAAGATCCCCAGCTTGGAAT and GTCGGTACCTTATTATTATTTTTGACACCAGACCAACTGG. This vector was linearized using the unique XhoI site before transforming into yeast. The N-terminus of HAdV-5 E1A (residues 1–82) and CR3 (residues 139–204) [29] were subcloned into the LexA DBD expression plasmid pBAIT [31] using EcoRI and SalI.
E1A-mediated transcriptional activation assay: LacZ Activity
Yeast transformations were performed using a modified lithium acetate procedure [58] and plated on synthetic complete (SC) media lacking appropriate nutrients. Wild-type or mutant yeast strains were transformed with the reporter and vector or E1A expression plasmid. β-galactosidase assays were performed as previously described [29]. Briefly, colonies of transformed yeast were picked off plates with sterile wooden sticks and used to inoculate 5 ml of SC liquid media lacking appropriate nutrients. The yeast were grown to a density of A600 = 0.8 to 1.2. 1 ml of cultures was transferred to microcentrifuge tubes, pelleted by brief centrifugation and resuspended in 1 ml of LacZ buffer (60 mM Na2HPO4.7H20, 40 mM NaH2PO4.H20, 10 mM KCl, 1 mM MgSO4) containing 2.7 μl/ml of β-mercaptoethanol. Cells were lysed by addition of 20 μl of chloroform and 40 ul of 0.1% SDS and 1 minute of vortexing. The cell lysates were then incubated at 30°C for 15 minutes. Two hundred μl of 4 μg/ml ONPG (o-Nitrophenyl β-o-Galactopyranoside) was added to each reaction. Reactions were incubated at 30°C until the tube turned light yellow, at which point it was stopped by the addition of 500 μl of 1 M Na2CO3. The tubes were cleared by centrifuging at 21,000 g for 10 minutes. The absorbance at 420 nm was measured for each reaction. Transcriptional activity was measured in LacZ units using the formula: Activity = A420/(A600 × Volume × Time). All assays were done in triplicate. Raw data is presented in Additional file 5. Fold activation of each portion of E1A was determined on a strain by strain basis with respect to the control LexA vector. Changes in activation with respect to parental BY4741 strain yeast were calculated by dividing the mutant strain fold activation by the fold activation from BY4741 obtained within the same experiment. This was done to minimize experimental variability and tests of N-terminus and CR3 dependent activation were performed simultaneously to allow direct comparison.
Yeast cell extracts and western blot analysis
Yeast colonies transformed with E1A expression vectors were picked from the SC selection plates and used to inoculate 5 ml of selective SC liquid media. Cultures were grown at 30°C until they reached an OD600 of 1.0. Cells were collected by centrifugation at 4°C (5 minutes at 1500 g). They were washed in 1 ml of ice-cold extraction buffer (10 mM Tris-HCl pH 7.5, 1× complete protease inhibitor cocktail (Roche Diagnostics). The cells were then re-suspended in 200 μl of cold extraction buffer and transferred to a 1.5 ml microtube containing 400 μl of 425–600 micron acid-washed glass beads (Sigma Aldrich). The cells were vortexed at high speed for 30 seconds and then put on ice for 30 seconds for 12 cycles. Four hundred μl of cold extraction buffer was added to the lysate which was vortexed for another 10 seconds. The tubes were then centrifuged at 21,000 g for 10 minutes at 4°C. Two hundred μl of the supernatant was transferred to clean chilled 1.5 ml microtubes. Protein concentrations of the lysates were measured using the DC Assay Kit (Bio-Rad Laboratories). Twenty μg of total protein from each sample was resolved on Novex pre-cast 5–20% gradient Tris-Glycine PAGE gel (Invitrogen). The E1A fusions were detected using rabbit polyclonal anti-LexA antibody (Millipore).
Declarations
Acknowledgements
We thank Drs. Charlie Boone, Joe Martens, Fred Winston, Nikita Avvakumov and Jacques Côté for generous gifts of yeast strains. AFY was supported by an Ontario Graduate Scholarship. This work was supported by Canadian Institutes of Health Research grant MOP-74647.
Authors' Affiliations
(1)
Department of Microbiology & Immunology, University of Western Ontario, London, Canada
(2)
Department of Biochemistry, University of Western Ontario, London, Canada
(3)
Department of Oncology, University of Western Ontario, London, Canada
Copyright
© Yousef et al; licensee BioMed Central Ltd. 2009
This article is published under license to BioMed Central Ltd. This is an Open Access article distributed under the terms of the Creative Commons Attribution License (http://creativecommons.org/licenses/by/2.0), which permits unrestricted use, distribution, and reproduction in any medium, provided the original work is properly cited.