Research article
Open Access
A direct repeat of E-box-like elements is required for cell-autonomous circadian rhythm of clock genes
BMC Molecular Biology
2008
9:1
Received: 12 July 2007
Accepted: 04 January 2008
Published: 04 January 2008
Abstract
Background
The circadian expression of the mammalian clock genes is based on transcriptional feedback loops. Two basic helix-loop-helix (bHLH) PAS (for Period-Arnt-Sim) domain-containing transcriptional activators, CLOCK and BMAL1, are known to regulate gene expression by interacting with a promoter element termed the E-box (CACGTG). The non-canonical E-boxes or E-box-like sequences have also been reported to be necessary for circadian oscillation.
Results
We report a new cis-element required for cell-autonomous circadian transcription of clock genes. This new element consists of a canonical E-box or a non-canonical E-box and an E-box-like sequence in tandem with the latter with a short interval, 6 base pairs, between them. We demonstrate that both E-box or E-box-like sequences are needed to generate cell-autonomous oscillation. We also verify that the spacing nucleotides with constant length between these 2 E-elements are crucial for robust oscillation. Furthermore, by in silico analysis we conclude that several clock and clock-controlled genes possess a direct repeat of the E-box-like elements in their promoter region.
Conclusion
We propose a novel possible mechanism regulated by double E-box-like elements, not to a single E-box, for circadian transcriptional oscillation. The direct repeat of the E-box-like elements identified in this study is the minimal required element for the generation of cell-autonomous transcriptional oscillation of clock and clock-controlled genes.
Keywords
Transcription Start SiteClock GeneDirect RepeatCircadian OscillationBiological Clock
Background
Circadian rhythms, periodicities with an approximate 24-h length, are essential physiological functions in almost all organisms on the earth and are generated by endogenous biological clocks. The biological clocks consist of 3 components: input, pacemaker, and output. The endogenous period length is not exactly 24 h and must be entrained by light. In mammals, other entrainment cues such as food intake or temperature, even social cues, can reset the circadian rhythm. The central oscillator in mammals is located in the suprachiasmatic nuclei (SCN) in the anteroventral hypothalamus. Recent studies revealed that the peripheral clocks reside not only in other brain regions but also in peripheral organs and even in cultured cells [1–4]. The output of the biological clocks includes broad physiological phenomena such as locomotor activity, sleep-wake cycle, hormonal secretion, cardiovascular condition, bowel movement, and even mental states. The disturbance of the biological clocks may cause many dysfunctions from routinely experienced jet-lag or work-shift problems to sleep disturbance and cardiovascular, metabolic or mental diseases [2, 5].
Recent molecular biological studies have revealed that the molecular mechanism of the biological clocks is based on the interlocked loops of transcriptional and translational feedback [6–8]. Among the transcriptional controls in mammals, 3 major clock components for canonical clock genes, i.e., E-box, RORE, and DBPE, have been reported so far [3, 9]. The E-box (CACGTG), for example, in the Per1 promoter, is the most well-known regulatory element. It is considered the binding site for the heterocomplex of CLOCK/BMAL1, which is a positive regulatory element. Negative regulatory elements, PERs and CRYs, restrain the transcriptional activity [10–12]. It is widely known that not only other clock genes are regulated by the E-box but also output regulators or clock-controlled genes are regulated by it as well [13–17]. On the other hand, Bmal1, whose circadian expression exhibits a sort of anti-phase to Per2 expression, is positively regulated by Rorα and negatively regulated by Rev-erbα, through RORE [18–21].
Per2 was literally cloned as a second mammalian period gene [22, 23], however, gene-knockout analysis revealed a more prominent role for mPER2 in the mammalian clock than PER1 [24]. Using the in vitro rhythm oscillation monitoring system (IV-ROMS) [3, 25], instead of the canonical E-box (CACGTG), we previously identified an E-box-like sequence (CACGTT) in the Per2 promoter region in vitro [26], which is essential for the cell-autonomous transcriptional oscillation of Per2 as well as for Per2 circadian oscillations in vivo [27]. For the cell-autonomous transcriptional oscillation of Per2, not only this E-box-like sequence but also the downstream region is involved in the circadian oscillation of Per2 [26]. Here, we identified closely spaced E-box or E-box-like elements in the regulatory regions of canonical clock genes including Per2. Our comprehensive approach raised the possibility that not just a single E-box but a direct repeat of E-box-like elements is required for circadian oscillation of core clock and clock-controlled genes.
Discussion
Among the genes identified by in silico analysis (Table 2), arginine vasopressin (Avp) is a neuropeptide physiologically synthesized in the hypothalamus in a circadian manner but pathologically expressed by small-cell lung cancer. In the latter case, upstream stimulatory factor (USF), another bHLH transcription factor, activates the vasopressin promoter via the adjacent non-canonical E-boxes in tandem with a 6-nucleotides space between them and the second E-box is important for full enhancer function of the first E-box [31]. Furthermore, hypoxia-inducible factor 1 (HIF-1), a bHLH-PAS transcription factor, has recently been reported to regulate some hypoxia-inducible genes such as vascular endothelial growth factor (VEGF) through an HIF-1 binding site and its downstream HIF-1 ancillary sequence, both of which are non-canonical E-boxes [32]. The space between these motifs in this case is 8 nucleotides and is crucial for activity of promoter. Not only mammalian genes but also fly clock genes contain a direct repeat of E-box-like elements, as discovered in this study. The Drosophila timeless promoter includes an E-box-like sequence dubbed TER1 and is considered as an EE-element together with its 7-bp downstream canonical E-box. This TER1 plays a major role in tim transcription [33]. These reports in addition to this study demonstrate that not a single E-box but an EE-element is crucial for transcriptional activation by certain bHLH transcription factors.
Our results suggest that 2 dimeric complexes of transcription factors bind to the 2 E-box-like elements with a short distance between them, such as 6 nucleotides. To support this possibility, we simulated this binding of bHLH transcription factors to the EE-element on the DNA by using the crystal structure of the bHLH domain of the Myc-Max heterodimer bound to DNA (PDB ID: 1NKP) [34]. Since 1 turn of double-helix DNA is approximately 34 Å and requires 10.4 nucleotides, the distance from the beginning of E1 to the end of space, which consists of 12 nucleotides, spans 39.2 Å (34/10.4 × 12, Fig. 5A). Two binding faces form a 55.8-degree angle (360/10.4 × 12–360, Fig. 5B). The maximum dimension of the bHLH structure, which lies along the DNA, is about 32 Å (Fig. 5C). This dimension is within the 39 Å calculated above and allows the binding. When the space is 5 nucleotides, for example, the distance between 2 complexes shortens approximately 3 Å horizontally compared with the case of 6 nucleotides; however, the angle between them becomes 20.6°. This precludes the possibility that the bHLH structure binds to the EE-element, because 2 whole structures including PAS domains may collide with each other. This simulation supports our contention that 6 nucleotides between 2 E-box-like elements, not 5 nucleotides, allow the binding of bHLH transcription factors to the EE-element on the DNA.
As a candidate for unknown factors that bind to E2, another type of transcription factor can be a possible candidate as well as the bHLH family transcription factor including HIF1 [
35
] or the bZip family transcription factor E4BP4 (also known as NFIL3) [
36
]. Our preliminary EMSA suggests that some proteins may bind to E2 (see Additional file
5
). Alternatively, different forms of the CLOCK and BMAL1 complex can be involved in this circadian transcription. The circadian transcriptional complex includes at least CLOCK, NPAS2, BMAL1, PERs and CRYs, probably in different combinations, and these proteins can be posttranslationally modified [
37
]. While E1 element is sufficient for binding of CLOCK and BMAL1, it is possible that binding to E2 can occur only after CLOCK and/or BMAL1 originally binds to E1. Thus E2 can be necessary for the binding of different forms of the complex or perhaps the binding to E2 is important for complex activation. Further studies, including identification of unknown factors or the circadian transcription complex and their crystal structures, will be required to elucidate the precise mechanism of transcriptional activation via an EE-element.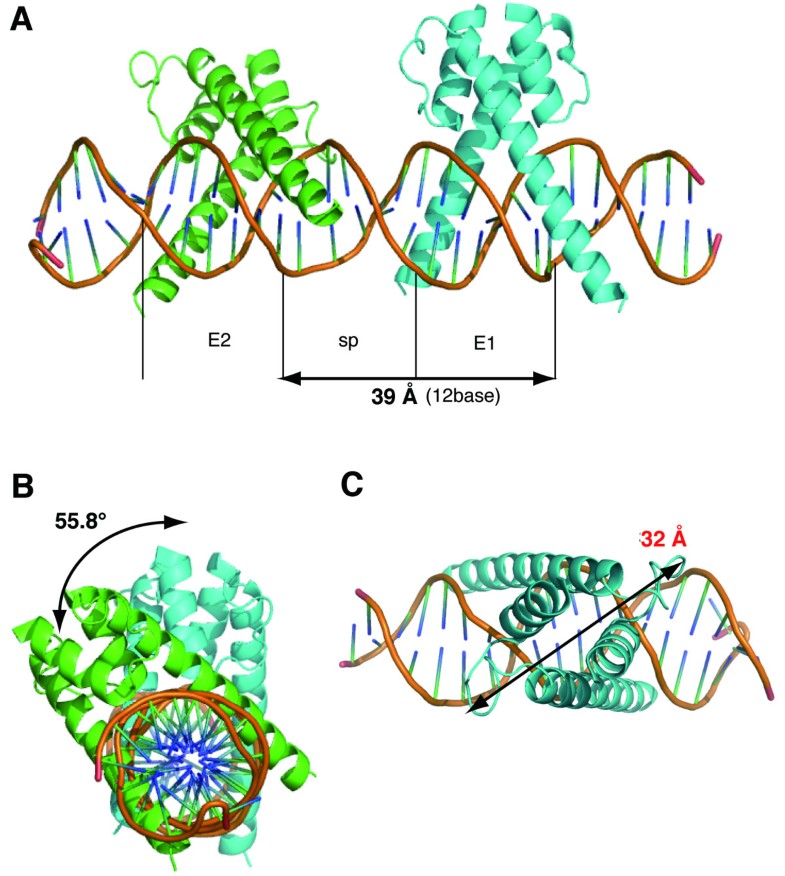 Conclusion
Here we identified a direct repeat of E-box-like elements consisting of a canonical E-box or non-canonical E-box in tandem with an E-box-like element, having a short interval of 6 base pairs between them. Although other regions outside the EE-element seem to be active in robust circadian oscillation with high amplitude [38], the EE-element identified in this study, not a single E-box, is the minimal required element for the generation of cell-autonomous transcriptional oscillation of clock and clock-controlled genes.
Declarations
Acknowledgements
The authors wish to thank Chiaki Matsubara, Setsuko Tsuboi, Yoko Sakakida, and Fumiyuki Hatanaka for their technical assistance and thank an anonymous reviewer for providing interesting interpretation. We are grateful to Teruya Tamaru and Toshiya Inaba for providing the antibodies against BMAL1 and E4BP4, respectively and also acknowledge Jacky Lucien Avery for his comments on this manuscript. This work was supported in part by grants from the MEXT, Takeda Science Foundation, Uehara Memorial Foundation, and Nippon Boehringer Ingelheim Co., Ltd.
Authors' Affiliations
(1)
Osaka Bioscience Institute, Suita, Osaka, Japan
(2)
Kyoto University Graduate School of Biostudies, Sakyo, Kyoto, Japan
(3)
Life Science Laboratory, Material Laboratories, Sony Corporation, Shinagawa, Tokyo, Japan
(4)
Department of Structural Biology, Graduate School of Pharmaceutical Sciences, Kyoto University, Sakyo, Kyoto, Japan
(5)
Department of Molecular Neuroscience, Kyoto University Graduate School of Medicine, Sakyo, Kyoto, Japan
Copyright
© Nakahata et al; licensee BioMed Central Ltd. 2008
This article is published under license to BioMed Central Ltd. This is an Open Access article distributed under the terms of the Creative Commons Attribution License (http://creativecommons.org/licenses/by/2.0), which permits unrestricted use, distribution, and reproduction in any medium, provided the original work is properly cited.