Human single-stranded DNA binding proteins are essential for maintaining genomic stability
BMC Molecular Biology
2013
14:9
Received: 7 January 2013
Accepted: 20 March 2013
Published: 1 April 2013
Abstract
The double-stranded conformation of cellular DNA is a central aspect of DNA stabilisation and protection. The helix preserves the genetic code against chemical and enzymatic degradation, metabolic activation, and formation of secondary structures. However, there are various instances where single-stranded DNA is exposed, such as during replication or transcription, in the synthesis of chromosome ends, and following DNA damage. In these instances, single-stranded DNA binding proteins are essential for the sequestration and processing of single-stranded DNA. In order to bind single-stranded DNA, these proteins utilise a characteristic and evolutionary conserved single-stranded DNA-binding domain, the oligonucleotide/oligosaccharide-binding (OB)-fold. In the current review we discuss a subset of these proteins involved in the direct maintenance of genomic stability, an important cellular process in the conservation of cellular viability and prevention of malignant transformation. We discuss the central roles of single-stranded DNA binding proteins from the OB-fold domain family in DNA replication, the restart of stalled replication forks, DNA damage repair, cell cycle-checkpoint activation, and telomere maintenance.
Keywords
Single-stranded DNA binding proteins (SSBs)Oligonucleotide/oligosaccharide binding (OB)-foldDouble-strand DNA break (DSB) repairHomology-directed repair (HDR)Translesion synthesisNucleotide excision repair (NER)Replication fork restartCell cycle checkpoint activationTelomere maintenance
Introduction
DNA exists primarily as a duplex to stabilise and protect our genome. However, as a result of many cellular processes, such as replication and transcription, single-stranded DNA (ssDNA) is exposed. While a necessary metabolic intermediate, these exposed stretches are vulnerable to both chemical and enzymatic degradation, and as such must be sequestered. In this process, the single-stranded DNA binding protein family (SSBs) are essential cellular components [1–4]. In addition to this role, SSBs function in the correct processing of ssDNA, including the recruitment of appropriate functional enzymes. In the current review, we discuss the roles of a subset of human SSBs in the maintenance of genomic stability, an essential consideration in the prevention of malignant transformation and loss of cellular viability.
The characteristic functional unit of the SSBs is the oligonucleotide/oligosaccharide-binding (OB)-fold, a protein domain that facilitates binding to ssDNA, as well as various protein-protein interactions (Figure
1
). As we have described previously [
1
], the SSB family consists of two core sub-groups; the simple SSBs, which contain one OB-fold per polypeptide, and the higher order SSBs, which contain multiple OB-folds (which may be on different polypeptides). The human genome encodes both simple and higher order SSBs: the simple SSBs are represented by human single-stranded DNA binding proteins 1 and 2 (hSSB1 and 2) and the mitochondrial SSB (mtSSB), while higher order SSBs are represented by heterotrimeric RPA. In addition, other proteins have also adopted the ssDNA-binding-OB-fold structure within their polypeptides and may be considered members of the SSB family. For instance the serine/threonine kinase receptor associated protein (Strap) structurally contains one DNA binding OB fold as do the simple SSBs, while the TPP1 - protection of telomeres 1 (POT1) breast cancer 2, early onset (BRCA2) and the CST complex form complexes reminiscent of higher order SSBs. While containing only a single OB-fold, the majority of simple SSBs, including all human simple SSBs, do however assemble as higher order multiple OB-fold containing oligomers [
5
–
7
]. This is exemplified by hSSB1, which is predominantly dimeric in solution and may shift to a stable tetrameric conformation following activation by the ataxia telangiectasia mutated kinase (ATM) [unpublished data from within our group].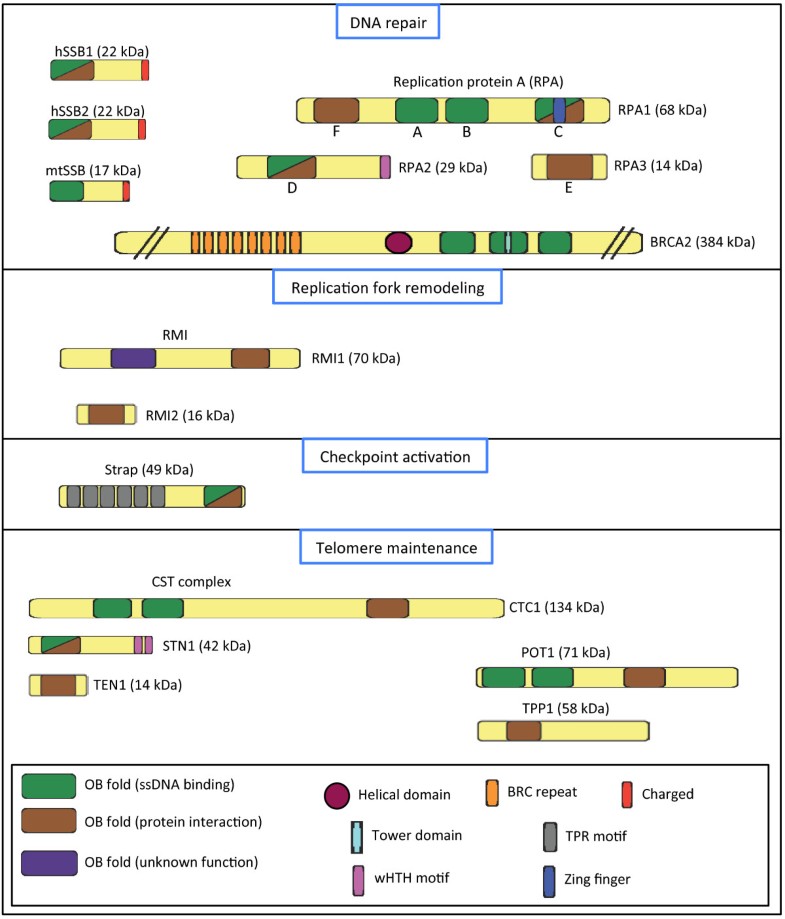 Summary
SSBs from the OB domain family play an essential role in the maintenance of genome stability, functioning in DNA replication, the repair of damaged DNA, the activation of cell cycle checkpoints, and in telomere maintenance. The importance of SSBs in these processes is highlighted by their ubiquitous nature in all kingdoms of life [1]. Here, in addition to genome stability maintenance, SSBs function in all known processes involving the exposure of ssDNA, such as transcriptional activation [311]. In humans, RPA has long been known to play an important role in the processing of ssDNA, however the recent identification of hSSB1 and 2 has raised several questions regarding the coordination of these processes. Additionally, the diversity of OB-fold primary sequences has made it difficult to detect these domains by non-biophysical means, allowing for the continued identification of OB-folds in previously identified proteins. This is highlighted by the recent identification of Strap and the RMI dimer, and suggests that further SSBs are likely to be identified.
Declarations
Acknowledgments
We would like to thank Mr Joshua Burgess, Dr Aaron Urquhart and Dr Nicolas Paquet for critical reading of the manuscript. Research by the Genome Stability Laboratory is funded by the Australian Research Council (ARC). NWA is supported by a scholarship awarded by Cancer Council Queensland. LC acknowledges funding from ARC and the National Health and Medical Research Council (NHMRC).
Authors' Affiliations
(1)
Genome Stability Laboratory, Cancer and Ageing Research Program, Institute of Health and Biomedical Innovation, Translational Research Institute, Queensland University of Technology, Queensland, Australia
(2)
School of Science and Health, University of Western Sydney,Locked Bag 1797, Sydney,Penrith, Australia
Copyright
© Ashton et al.; licensee BioMed Central Ltd. 2013
This article is published under license to BioMed Central Ltd. This is an Open Access article distributed under the terms of the Creative Commons Attribution License (http://creativecommons.org/licenses/by/2.0), which permits unrestricted use, distribution, and reproduction in any medium, provided the original work is properly cited.