VprBP (DCAF1): a promiscuous substrate recognition subunit that incorporates into both RING-family CRL4 and HECT-family EDD/UBR5 E3 ubiquitin ligases
BMC Molecular Biology
2013
14:22
Received: 3 June 2013
Accepted: 3 September 2013
Published: 13 September 2013
Abstract
The terminal step in the ubiquitin modification system relies on an E3 ubiquitin ligase to facilitate transfer of ubiquitin to a protein substrate. The substrate recognition and ubiquitin transfer activities of the E3 ligase may be mediated by a single polypeptide or may rely on separate subunits. The latter organization is particularly prevalent among members of largest class of E3 ligases, the RING family, although examples of this type of arrangement have also been reported among members of the smaller HECT family of E3 ligases. This review describes recent discoveries that reveal the surprising and distinctive ability of VprBP (DCAF1) to serve as a substrate recognition subunit for a member of both major classes of E3 ligase, the RING-type CRL4 ligase and the HECT-type EDD/UBR5 ligase. The cellular processes normally regulated by VprBP-associated E3 ligases, and their targeting and subversion by viral accessory proteins are also discussed. Taken together, these studies provide important insights and raise interesting new questions regarding the mechanisms that regulate or subvert VprBP function in the context of both the CRL4 and EDD/UBR5 E3 ligases.
Keywords
VprBP
DCAF1
DDB1
Cul4
CRL4
EDD
UBR5
Dyrk2
Merlin
Katanin
UNG2
LGL2
Mcm10
Histone H3
RORα
Methyl degron
p53
TERT
telomerase
RAG1
V(D)J recombination
HIV
Vpr
Vpx
UL35
Ubiquitin
E3 ubiquitin ligase
RING
HECT
WD40 repeat
Introduction
Virtually all cellular processes are subjected to some level of regulation by the ubiquitin modification system which mediates the attachment of ubiquitin or ubiquitin-like molecules to proteins in the involved pathways (for review, see[1]). It is also now appreciated that this system can be subverted by pathogens to disable host responses and alter the cellular environment to benefit the microorganism (for reviews, see[2–4]). Ubiquitin is a 76 amino acid protein that is covalently attached to a target protein through a series of enzymatic steps in which free ubiquitin is initially coupled to an activating enzyme (E1) in an ATP-dependent reaction, and then transferred to the catalytic cysteine of a conjugating enzyme (E2). In the last step, the ubiquitin-linked E2 associates with an ubiquitin ligase (E3), which catalyzes the transfer of ubiquitin to an ϵ-amino group of a lysine residue in the targeted protein. Additional ubiquitin molecules may be appended to lysine residues in ubiquitin to form polyubiquitin chains. The number of attached ubiquitin molecules and the specific lysine residue(s) used to link them together dictate whether the outcome of ubiquitination mainly serves to alter the function of the target protein, or triggers its degradation through the proteasome pathway.
There are two major classes of E3 ubiquitin ligases (termed E3 ligase henceforth) that differ in how they mediate ubiquitin transfer (for reviews, see[1, 5]). Those that contain a RING (r eally i nteresting n ew g ene) domain, or the related U-box domain, facilitate the direct transfer of ubiquitin from the ubiquitin-E2 conjugate to the target protein without forming a covalent intermediate. By contrast, those with a HECT (h omologous to E 6-AP c arboxy t erminus) domain first undergo a trans-thioesterification reaction which transfers ubiquitin from the E2 enzyme to an active site cysteine residue in the HECT domain before the ubiquitin is ultimately coupled to the target protein. Most eukaryotic organisms have only a single E1 activating enzyme, but express tens of E2 conjugating enzymes and several hundred or more E3 ligases. Substrate specificity is largely determined by the E3 ligase; however, the substrate binding and catalytic activity of a given E3 ligase may or may not be found within the same molecule. The cullin RING ligases (CRLs) are a large group of E3 ligases with separable substrate binding and catalytic activities (for review, see[6, 7]). These E3 ligases have a modular organization in which one of the cullin family members of scaffold proteins binds both a small RING-containing catalytic subunit (Roc1 [r egulator o f c ullins 1] or Roc2; also called Rbx1 [R ING b ox protein] or Rbx2), and a cullin-specific adaptor protein. In most cases, the adaptor protein, in turn, binds a substrate recognition subunit that recruits and positions the substrate in proximity to the catalytic subunit for ubiquitination. The CRL is defined by the cullin scaffold protein, of which there are seven members in humans and mice (i.e. CRL1 contains Cul1). Because the CRL adaptor protein is generally cullin-specific, it is often not included in the designation, but the substrate recognition subunit is included after the CRL in superscript. For example, Damaged DNA b inding protein 1 (DDB1) is the adaptor protein for the CRL4 E3 ligase. The D DB1-C ul4 a ssociating f actors (DCAFs) that comprise the substrate recognition subunits for the CRL4 E3 ligase are indicated as CRL4DCAF. This convention will be followed here.
The HECT-domain E3 ligases are characterized by the presence of a C-terminal HECT domain (for review, see[8]). This family has been further divided into three broad subgroups based on the presence or absence of additional WW or RCC1 (r egulator of c hromatin c ondensation 1)-like domains (RLDs) in the amino-terminal region of the protein. These include the Nedd4/Nedd4-like subgroup which contains WW domains (identified by a signature pair of tryptophan residues), the HERC (HE CT and RC C1-like domain) subgroup which contain RLDs, and a subgroup which harbors neither WW domains nor RLDs (non-WW/non-RLD). In contrast to the CRL family of E3 ligases, HECT-domain E3 ligases more commonly function as a single subunit E3 ligase, mediating both substrate recognition and ubiquitination. However, for some HECT E3 ligases, such as Nedd4, adaptor proteins may be engaged to mediate substrate recruitment or influence the subcellular distribution of the E3 ligase to direct ubiquitination of localized substrates[9]. The degree of flexibility of adaptor proteins and substrate recognition subunits to service multiple E3 ligases is important for understanding how the substrates they recruit are regulated in a variety of spatial and temporal contexts.
Here we review and discuss the discovery and characterization of
V
iral
p
rotein
R b
inding
p
rotein (VprBP, also called DCAF1), and its emerging role as a dual-purpose substrate recognition subunit for two distinct E3 ligases: the RING-family member CRL4 and the "non-WW/non-RLD" HECT-family member EDD/UBR5 (
E
3 ligase identified by
d
ifferential
d
isplay/
ub
iquitin protein ligase E3 component n-
r
ecognin 5) (Figure
1
). Regulatory roles of the CRL4 and EDD/UBR5 E3 ligases for which there is no known involvement of VprBP as a substrate recognition molecule will not be discussed in depth here.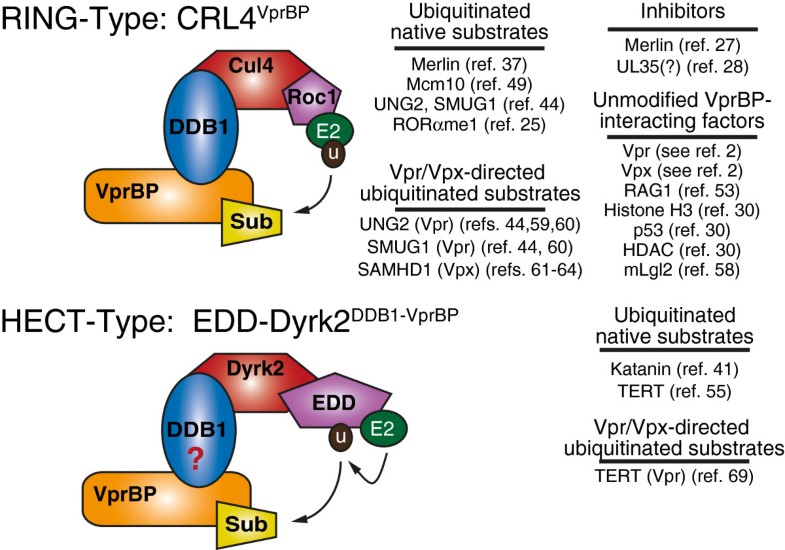 Declarations
Acknowledgments
PCS gratefully acknowledges funding from the National Institutes of Health (5R01 GM102487). TN thanks Yue Xiong (University of North Carolina at Chapel Hill) for continuous encouragement and support.
Authors' Affiliations
(1)
Department of Cell Proliferation, United Center for Advanced Research and Translational Medicine, Graduate School of Medicine, Tohoku University, Sendai, Japan
(2)
Department of Medical Microbiology and Immunology, Creighton University, Omaha, USA
Copyright
© Nakagawa et al.; licensee BioMed Central Ltd. 2013
This article is published under license to BioMed Central Ltd. This is an Open Access article distributed under the terms of the Creative Commons Attribution License (http://creativecommons.org/licenses/by/2.0), which permits unrestricted use, distribution, and reproduction in any medium, provided the original work is properly cited.