Cruciform structures are a common DNA feature important for regulating biological processes
BMC Molecular Biology
2011
12:33
Received: 21 February 2011
Accepted: 5 August 2011
Published: 5 August 2011
Abstract
DNA cruciforms play an important role in the regulation of natural processes involving DNA. These structures are formed by inverted repeats, and their stability is enhanced by DNA supercoiling. Cruciform structures are fundamentally important for a wide range of biological processes, including replication, regulation of gene expression, nucleosome structure and recombination. They also have been implicated in the evolution and development of diseases including cancer, Werner's syndrome and others.
Cruciform structures are targets for many architectural and regulatory proteins, such as histones H1 and H5, topoisomerase IIβ, HMG proteins, HU, p53, the proto-oncogene protein DEK and others. A number of DNA-binding proteins, such as the HMGB-box family members, Rad54, BRCA1 protein, as well as PARP-1 polymerase, possess weak sequence specific DNA binding yet bind preferentially to cruciform structures. Some of these proteins are, in fact, capable of inducing the formation of cruciform structures upon DNA binding. In this article, we review the protein families that are involved in interacting with and regulating cruciform structures, including (a) the junction-resolving enzymes, (b) DNA repair proteins and transcription factors, (c) proteins involved in replication and (d) chromatin-associated proteins. The prevalence of cruciform structures and their roles in protein interactions, epigenetic regulation and the maintenance of cell homeostasis are also discussed.
Keywords
cruciform structureinverted repeatprotein-DNA binding
Review
Genome sequencing projects have inundated us with information regarding the genetic basis of life. While this wealth of information provides a foundation for our understanding of biology, it has become clear that the DNA code alone does not hold all the answers. Epigenetic modifications and higher order DNA structures beyond the double helix also contribute to basic biological processes and maintaining cellular stability. Local alternative DNA structures are known to exist in all life forms [1]. The negative supercoiling of DNA can induce local nucleotide sequence-dependent conformational changes that give rise to cruciforms, left-handed DNA, triplexes and quadruplexes [2–4]. The formation of cruciforms is strongly dependent on base sequence and requires perfect or imperfect inverted repeats of 6 or more nucleotides in the DNA sequence [5, 6]. Over-representation of inverted repeats, which occurs nonrandomly in the DNA of all organisms, has been noted in the vicinity of breakpoint junctions, promoter regions, and at sites of replication initiation [3, 7, 8]. Cruciform structures may affect the degree of DNA supercoiling, the positioning of nucleosomes in vivo[9], and the formation of other secondary structures of DNA. Cruciforms contain a number of structural elements that serve as direct protein-DNA targets. Numerous proteins have been shown to interact with cruciforms, recognizing features such as DNA crossovers, four-way junctions, and curved or bent DNA. Structural transitions in chromatin occur concomitantly with DNA replication or transcription and in processes that involve a local separation of DNA strands. Such transitions are believed to facilitate the formation of alternative DNA structures [10, 11]. Transient supercoils are formed in the eukaryotic genome during DNA replication and transcription, and these often involve protein binding [12]. Indeed, active chromatin remodeling is a typical feature for many promoters and is essential for gene transcription [13]. Notably, DNA supercoiling can have a strong impact on gene expression [14]. Using microarrays covering the E. coli genome, it was recently shown that expression of 7% of genes was rapidly and significantly affected by a loss of chromosomal supercoiling [15]. Several complexes that involve extensive DNA-protein interactions, whereby the DNA wraps around the protein, can only occur under conditions of negative DNA supercoiling [10]. Other proteins are reported to interact with the supercoiled DNA (scDNA) at crossing points or on longer segments of the interwound supercoil [16, 17]. Interestingly, the eukaryotic genome has been shown to contain a percentage of unconstrained supercoils, part of which can be attributed to transcriptional regulation [3]. The spontaneous generation of DNA supercoiling is also a requirement for genome organization [18]. Transient supercoils are formed both in front of and behind replication forks as superhelical stress is distributed throughout the entire replicating DNA molecule [19]. A number of additional processes may operate to create transient and localized superhelical stresses in eukaryotic DNA.
The recognition of cruciform DNA seems to be critical not only for the stability of the genome, but also for numerous, basic biological processes. As such, it is not surprising that many proteins have been shown to exhibit cruciform structure-specific binding properties. In this review, we focus on these proteins, many of which are involved in chromatin organization, transcription, replication, DNA repair, and other processes. To organize our review, we have divided cruciform binding proteins into four groups (see Table
1
) according to their primary functions: (a) junction-resolving enzymes, (b) transcription factors and DNA repair proteins, (c) replication machinery, and (d) chromatin-associated proteins. For each group, we describe in detail recent examples of research findings. Lastly, we review how dysregulation of cruciform binding proteins is associated with the pathology of certain diseases found in humans.
Table 1
Proteins involved in interactions with cruciform structures
Protein

Source

Reference

Junction-resolving enzymes

   Integrase family

RuvC

E.coli

Cce1

yeast

[136]

Ydc2

S.pombe

[134]

A22

Coccinia virus

[137]

Integrases

all

   Restriction nuclease family

Endonuclease I

Phage T7

RecU

G+ bacteria

Hjc, Hje

archea

MutH

Eukaryotes

   Other

Endonuclease VII

phage T4

RusA

E.coli

[146]

MSH2

S. cerevisiae

Mus81-Eme1

Eukaryotes

TRF2

H. sapiens

XPF, XPG protein families

Eukaryotes

Transcription, Transcription factors and DNA repair

PARP-1

H. sapiens and others

BRCA1

H. sapiens and others

P53

H. sapiens and others

Bmh1

S.cerevisiae

[35]

14-3-3

H. sapiens, S.cerevisiae

Rmi-1

Yeast

[157]

Crp-1

S. cerevisiae

[158]

HMG protein family

all

Smc

S. cerevisiae

Hop1

S. cerevisiae

ER estrogen receptor

mammals

[58]

Chromatin-associated proteins

DEK

mammals

BRCA1

mammals

HMG protein family

Eukaryotes

Rad54

Eukaryotes

[48]

Rad51ap

Eukaryotes

[81]

Topoisomerase I

Eukaryotes

Replication

S16

E.coli

[113]

GF14, homolog of 14-3-3

plants

[35]

MLL (leukemia)

H. sapiens

WRN (Werner syndrome)

H. sapiens

[129]

AF10

H. sapiens

[114]

14-3-3

Eukaryotes

DEK

mammals

DNA-PK

Eukaryotes

[166]

Vlf-1

Baculovirises

[119]

HU

E. coli

Helicases (59, 44, and others)

all

[55]
Formation and presence of c ruciform structures in the genome
Cruciform structures are important regulators of biological processes [
3
,
5
]. Both stem-loops and cruciforms are capable of forming from inverted repeats. Cruciform structures consist of a branch point, a stem and a loop, where the size of the loop is dependent on the length of the gap between inverted repeats (Figure
1
). Direct inverted repeats lead to formation of a cruciform with a minimal single-stranded loop. The formation of cruciforms from indirect inverted repeats containing gaps is dependent not only on the length of the gap, but also on the sequence in the gap. In general, the AT-rich gap sequences increase the probability of cruciform formation. It is also possible that the gap sequence can form an alternative DNA structure. The formation of DNA cruciforms has a strong influence on DNA geometry whereupon sequences that are normally distal from one another can be brought into close proximity [
20
,
21
]. The structure of cruciforms has been studied by atomic force microscopy [
22
–
24
]. These studies have identified two distinct classes of cruciforms. One class of cruciforms, denoted as unfolded, have a square planar conformation characterized by a 4-fold symmetry in which adjacent arms are nearly perpendicular to one another. The second class comprises a folded (or stacked) conformation where the adjacent arms form an acute angle with the main DNA strands (Figure
2
). Two of the three structural motifs inherent to cruciforms, the branch point and stem, are also found in Holliday junctions. Holliday junctions are formed during recombination, double-strand break repair, and fork reversal during replication. Resolving Holliday junctions is a critical process for maintaining genomic stability [
25
,
26
]. These junctions are resolved by a class of structure-specific nucleases: the junction-resolving enzymes.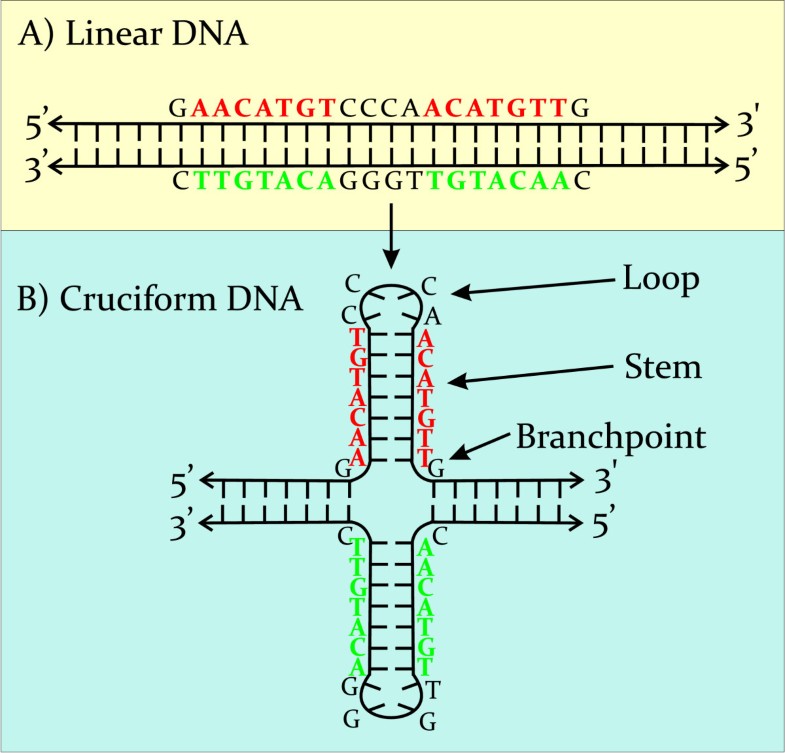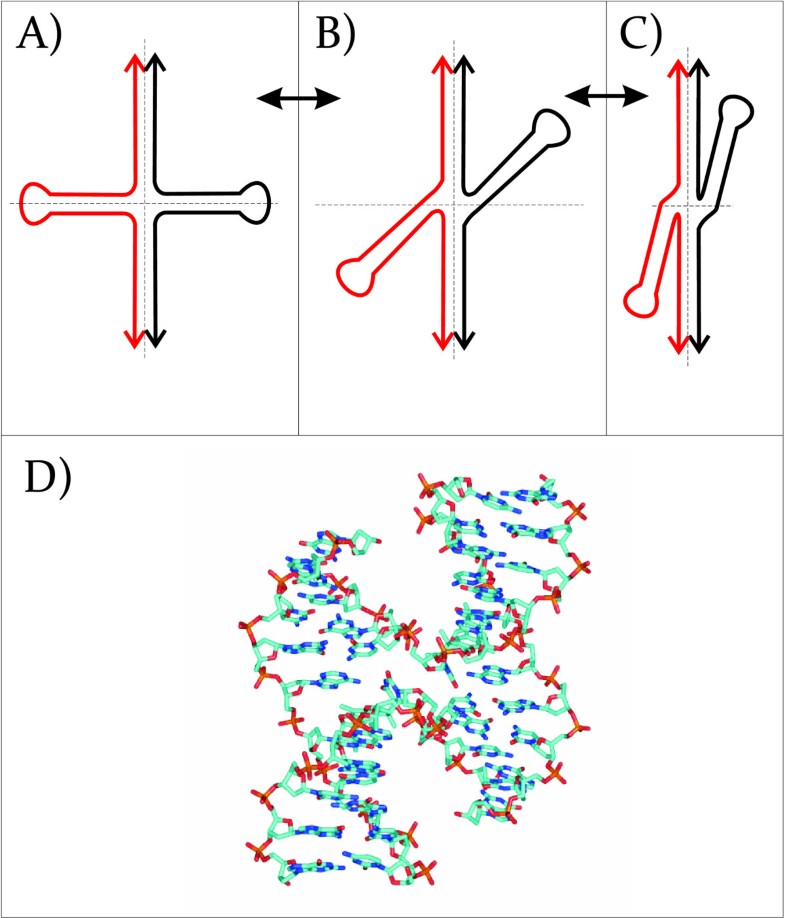 Cruciforms are not thermodynamically stable in naked linear DNA due to branch migration [27]. Cruciform structure formation in vivo has been shown in both prokaryotes and eukaryotes using several methodological approaches. The presence of the cruciform structure was first described in circular plasmid DNA where the negative superhelix density can stabilize cruciform formation. Plasmids with native superhelical density usually contain cruciform structures in vitro and in vivo[28]. For example, higher order structure in the pT181 plasmid was shown to exist in vivo using bromoacetaldehyde treatment [29]. Deletion of the sequence which forms this structure at the ori site leads either to a reduction or failure in replication [30]. Similarly, deletion of the cruciform binding domain in 14-3-3 proteins results in reduced origin binding which affects the initiation of DNA replication in budding yeast [31]. Monoclonal antibodies against cruciform structures have also been used successfully to isolate cruciform-containing segments of genomic DNA. Furthermore, these sequences were able to replicate autonomously when transfected into HeLa cells [32]. Stabilization of the cruciform structures by monoclonal antibodies 2D3 and 4B4, with anti-cruciform DNA specificity, resulted in a 2- to 6-fold enhancement of replication in vivo[33]. 14-3-3 sigma was found to associate in vivo with the monkey origins of DNA replication ors8 and ors12 in a cell cycle-dependent manner, as assayed by a chromatin immunoprecipitation (ChIP) assay that involved formaldehyde cross-linking, followed by immunoprecipitation with anti-14-3-3 sigma antibody and quantitative PCR [34]. Similarly, the 14-3-3 protein homologs from Saccharomyces cerevisiae, Bmh1p and Bmh2p, have cruciform DNA-binding activity and associate in vivo with ARS307 [35]. Several studies show that transcription is regulated directly by the presence of cruciform structure in vivo. Another example includes the ability of the d(AT)n-d(AT)n insert to spontaneously adopt a cruciform state in E. coli, resulting in a block of protein synthesis [36]. Using site-directed mutational analysis and P1 nuclease mapping, it was demonstrated that the formation of a cruciform structure is required for the repression of enhancer function in transient transfection assays and that Alu elements may contribute to regulation of the CD8 alpha gene enhancer through the formation of secondary structure that disrupts enhancer function [37]. Transcriptionally driven negative supercoiling also mediates cruciform formation in vivo and enhanced cruciform formation correlates with an elevation in promoter activity [38]. It was also shown that the secondary DNA structures of the ATF/CREB element play a vital role in protein-DNA interactions and its cognate transcription factors play a predominant role in the promoter activity of the RNMTL1 gene [39]. Hypo-methylation of inverted repeats by the Dam methylase show that these sequences are consistent with an unusual secondary structure, such as DNA cruciform or hairpin in vivo[40]. The in vivo effects of cruciform formation during transcription have been studied in detail by Krasilnikov et al. [4]. Interestingly hairpin-capped linear DNA (in which the replication of hairpin-capped DNA and cruciform formation and resolution play central roles) was stably maintained for months in a human cancer cell line as numerous extra-chromosomal episomes [41]. Long palindromes can also induce DNA breaks after assuming a cruciform structure. Palindromes in S. cerevisiae are resolved, in vivo, by structure-specific enzymes. In vivo resolution requires either the Mus81 endonuclease or, as a substitute, the bacterial HJ resolvase RusA. These findings provide confirmation of cruciform extrusion and resolution in the context of eukaryotic chromatin [42]. Taken together, these studies show that cruciforms have been detected in vivo using a variety of independent techniques and that they are an intriguing and integral phenomenon of DNA biology and biochemistry.
Proteins involved in interactions with cruciform structures
Conclusions
Cruciform structures are fundamentally important for a wide range of biological processes, including DNA transcription, replication, recombination, control of gene expression and genome organization. The putative mechanistic roles of cruciform binding proteins in transcription, DNA replication, and DNA repair are shown in Figure
5
. Alternative DNA structures, including cruciforms, are often formed at sites of negatively supercoiled DNA by perfect or imperfect inverted repeats of 6 or more nucleotides. Longer DNA palindromes present a threat to genomic stability as they are recognized by junction-resolving enzymes. Shorter palindromic sequences are essential for basic processes like DNA replication and transcription. The presence of cruciform structures may also play an important role in epigenetics, such that cruciform structures are protected from DNA methylation. For example, the Dam methylase is not able to modify its GATC target site when it occurs in a cruciform or hairpin conformation. The center of a long perfect palindrome located in bacteriophage lambda has also been shown to be methylation-resistant
in vivo
[
40
]. Moreover, the centers of long palindromes are hypo-methylated as compared to identical sequences in non-palindromic conformations [
40
]. To this end, transient cruciforms can directly influence DNA methylation and therefore provide another layer for regulation of the DNA code. Proteins that bind to cruciforms can be divided into several categories. In addition to a well defined group of junction-resolving enzymes, we have classified cruciform binding proteins into groups involved in transcription and DNA repair (PARP, BRCA1, p53, 14-3-3), chromatin-associated proteins (DEK, BRCA1, HMG protein family, topoisomerases), and proteins involved in replication (MLL, WRN, 14-3-3, helicases) (see Table
1
). Within these groups are proteins indispensable for cell viability, as well as tumor suppressors, proto-oncogenes and DNA remodeling proteins. Similarly, triplet repeat expansion, a phenomenon important in several genetic diseases, including Friedreich's ataxia, cardiomyopathy, myotonic dystrophy type I and other neurological disorders, can change the spectrum of cruciform binding proteins. Lastly, single nucleotide polymorphisms and/or insertion/deletion mutations at inverted repeats located in promoter sites can also influence cruciform formation, which might be manifested through altered gene regulation. A deeper understanding of the processes related to the formation and function of alternative DNA structures will be an important component to consider in the post-genomic era.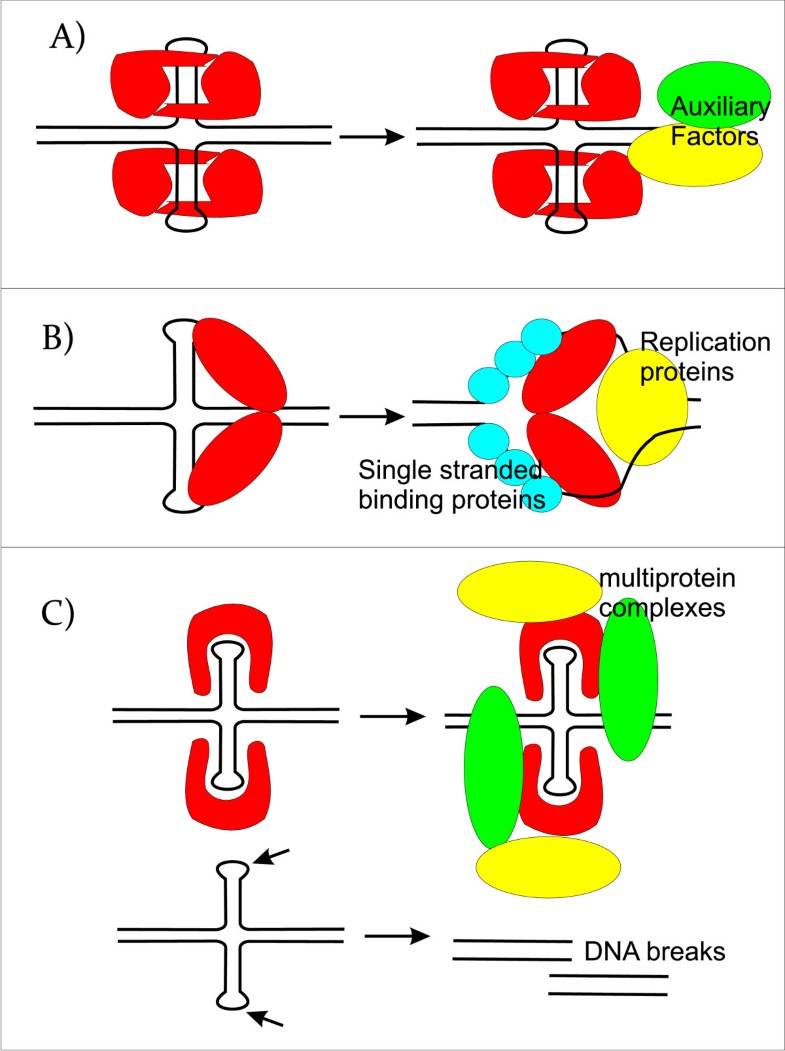 Declarations
Acknowledgements
This work was supported by the GACR (301/10/1211), by the MEYS CR (LC 06035) and by the Academy of Science of the Czech Republic (grants M200040904, AV0Z50040507 and AV0Z50040702).
Authors' Affiliations
(1)
Institute of Biophysics, Academy of Sciences of the Czech Republic, Brno, Czech Republic
(2)
Division of Stem Cell and Developmental Biology, Department of Medical Biophysics, Ontario Cancer Institute, University of Toronto, Toronto, Canada
(3)
Department of Medical Biophysics, Cancer Genomics & Proteomics, Ontario Cancer Institute, University of Toronto, Toronto, Canada
Copyright
© Brázda et al; licensee BioMed Central Ltd. 2011
This article is published under license to BioMed Central Ltd. This is an Open Access article distributed under the terms of the Creative Commons Attribution License (http://creativecommons.org/licenses/by/2.0), which permits unrestricted use, distribution, and reproduction in any medium, provided the original work is properly cited.