Research article

Open Access
Effects on mitochondrial transcription of manipulating mTERF protein levels in cultured human HEK293 cells
BMC Molecular Biology
2010
11:72
Received: 4 March 2010
Accepted: 16 September 2010
Published: 16 September 2010
Abstract
Background
Based on its activities in vitro, the mammalian mitochondrial transcription termination factor mTERF has been proposed to regulate mitochondrial transcription by favouring termination at its high-affinity binding immediately downstream of the rDNA segment of mitochondrial DNA, and initiation selectively at the PH1 site of the heavy-strand promoter. This defines an rDNA transcription unit distinct from the 'global' heavy-strand transcription unit initiating at PH2. However, evidence that the relative activities of the two heavy-strand transcription units are modulated by mTERF in vivo is thus far lacking.
Results
To test this hypothesis, we engineered human HEK293-derived cells for over-expression or knockdown of mTERF, and measured the steady-state levels of transcripts belonging to different transcription units, namely tRNALeu(UUR) and ND1 mRNA for the PH2 transcription unit, and tRNAPhe plus 12S and 16S rRNA for the PH1 transcription unit. The relative levels of 16S rRNA and ND1 mRNA were the same under all conditions tested, although mTERF knockdown resulted in increased levels of transcripts of 12S rRNA. The amount of tRNAPhe relative to tRNALeu(UUR) was unaffected by mTERF over-expression, altered only slightly by mTERF knockdown, and was unchanged during recovery from ethidium bromide-induced depletion of mitochondrial RNA. mTERF overexpression or knockdown produced a substantial shift (3-5-fold) in the relative abundance of antisense transcripts either side of its high-affinity binding site.
Conclusions
mTERF protein levels materially affect the amount of readthrough transcription on the antisense strand of mtDNA, whilst the effects on sense-strand transcripts are complex, and suggest the influence of compensatory mechanisms.
Keywords
Electrophoretic Mobility Shift Assay
HEK293T Cell
EtBr
Antisense Transcript
Transcription Unit
Background
Mammalian mitochondrial DNA is organized into three multicistronic transcription units (reviewed in [
1
], Fig.
1A
), which give rise to the mature RNAs encoded by the circular genome: two ribosomal RNAs, 22 tRNAs and 11 mRNAs (2 of them bicistronic). Each strand is transcribed in its entirety, employing closely spaced promoters located within the major non-coding region of the genome, namely LSP, the promoter of the light-strand, with a unique initiation site designated PL, and PH1 and PH2, the alternate transcription start sites of the heavy-strand promoter (HSP), which give rise to partially overlapping transcripts. Based on metabolic labeling studies, PH1 and PH2 have been inferred to give rise to distinct primary transcripts of the heavy-strand [
2
]. PH1 is located within the non-coding region and generates a primary transcript comprising both rRNAs and two tRNAs (-Phe and -Val), terminating at the end of the rDNA region, mainly within the 5' end of the tRNA
Leu(UUR)
gene [
3
]. PH2 is located within the coding sequence of tRNA
Phe
and generates a primary transcript comprising all of the remaining heavy-strand encoded genes. PL generates a primary transcript comprising the entire light strand.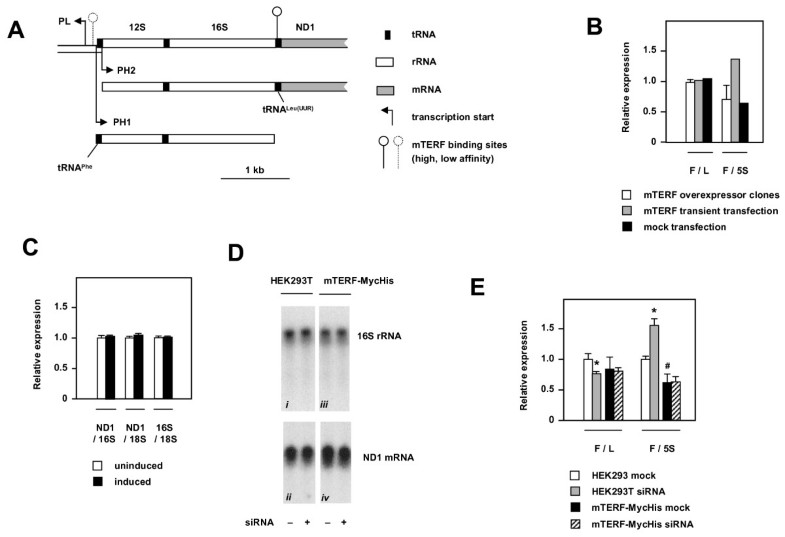 The mechanism by which the transcriptional machinery selects between these different initiation sites, and also effects selective termination at the end of the rDNA, in the case of transcripts initiated at PH1, is incompletely understood. It can be manipulated in organello by various drugs and by ATP [4–6]. The mitochondrial RNA polymerase comprises a single catalytic subunit, MTRPOL, plus an accessory factor, TFB2M, required for formation of the initiation complex in vitro at both HSP and LSP [7, 8], together with mitochondrial transcription factor A (TFAM), which is needed for promoter-dependent transcription in vitro[7, 9]. TFAM has a natural binding affinity for DNA and has been suggested also to play a more general role in organizing the mitochondrial chromosome, analogous with bacterial HU or eukaryotic and archaeal histones. A third factor, mTERF, with sequence-specific binding affinity for a sequence located within the tRNALeu(UUR) gene immediately downstream of the rDNA [10, 11], has been proposed to play a key role in both initiation and termination of the PH1 transcription unit [12].
mTERF has selective termination activity in vitro on templates containing its high-affinity binding site in the tRNALeu(UUR) gene [10, 13]. In crude extracts [14], as well as in a reconstituted system based on recombinant proteins [15], this activity appears to be bidirectional, but operates in the latter case more efficiently in the reverse direction, i.e. to terminate transcription initiating from the LSP side more efficiently than from HSP [15]. Based on the fact that it has weak binding to other sites in mtDNA, including the promoter region [12, 16, 17], it has been proposed that mTERF favours transcription of the PH1 transcription unit by simultaneous binding to the promoter and to the terminator region, creating a loop structure that can be visualized in vitro[12]. The level of active mTERF would thus act as a fine tuning of the relative production of rRNA and mRNA.
There are, however, some problems associated with this model. First, efficient transcription from PH1 in vitro does not require mTERF (although does appear to be stimulated by it [18]), whereas transcription from PH2 in vitro is weak [18]. Second, measurements of the relative half-lives of mitochondrial rRNAs and mRNAs in cultured cells [19] indicate that post-transcriptional regulation is substantial and may in fact be sufficient to maintain the different transcript levels seen in vivo, without the need for any differential regulation of transcription from the PH1 and PH2 transcription units. Note that, although the synthesis rates of mitochondrial rRNAs and mRNAs appear to be very different in both cultured cells [19] and rat liver [20], 'synthesis rate' here includes RNA processing as well as transcription. In organello, the combined rate of accumulation of pre-rRNA plus mature rRNA is, in fact, lower than that of mRNA [6]. Third, no modulation of transcription from the two initiation sites correlating with mTERF activity has ever been convincingly demonstrated in vivo. Fourth, in cells bearing the 3423A > G mutation, which greatly impairs mTERF binding in vitro, there is no alteration in the relative levels of 16S rRNA and ND1 mRNA [21, 22], and no alteration in site occupancy in vivo, based on footprinting studies [21]. Fifth, decreased levels of mTERF expression in Mpv17 knockout mice are associated with globally increased mitochondrial transcription [23], suggesting rather than mTERF may function in vivo as a negative but general regulator of transcription. Finally, whilst recombinant mTERF is active in a reconstituted system in vitro[15], its activity in the presence of less pure mitochondrial extracts is subject to post-translational modifications and/or the presence of other proteins [11–13, 18, 24], raising doubts as to whether and how it influences transcription in vivo.
mTERF is a member of a family of organellar proteins proposed to interact with DNA to produce a variety of outcomes [25]. In mammals, two homologues of mTERF, MTERFD1 (mTERF3) and MTERD3 (mTERF2), have been shown to influence mitochondrial RNA levels and have been proposed to act as regulators of transcription from LSP [26, 27], with consequent effects on oxidative phosphorylation mediated brought about by altered translation, as seen also in Drosophila[28]. However, neither mTERF homologue has been conclusively demonstrated to have high-affinity sequence-specific binding to DNA [26, 27, 29]. Homologues of mTERF in invertebrates have been demonstrated to influence both RNA and DNA synthesis in vitro, but here too, there is only weak evidence for a specific role in vivo. The mTERF-homologue in sea urchins, mtDBP, binds to at least two sites in the mitochondrial genome [30] and exhibits bidirectional transcription termination activity in vitro in the presence of human mitochondrial RNA polymerase, although it acts unidirectionally in combination with phage polymerases [31]. It also impedes the progress of DNA polymerase bidirectionally, acting as a contrahelicase in vitro[32], suggesting a possible role in DNA replication. A role for mTERF in mammalian mtDNA replication is also suggested by the observation that the level of mTERF expression in cultured human cells influences replication pausing in the vicinity of mTERF binding sites [16]. The Drosophila mTERF homologue mTTF binds to two putative transcriptional terminators [33], acting in vitro with similar directional properties to mtDBP [34]. Manipulation of DmTTF levels in cultured cells leads to effects on transcript levels consistent with it acting in the manner hypothesized for mTERF, i.e. as a regulator of termination (bidirectionally) and also of promoter activity [35].
The difficulty of interpreting in vitro experiments, and the open questions regarding the role of mTERF in vivo, prompted us to address the issue of whether and how mTERF activity influences mitochondrial RNA levels in cultured human cells. Clearly, if mTERF is a regulator of mitochondrial transcription in vivo, via a model as proposed, up- or down-regulation of its expression should influence mitochondrial RNA levels in a predictable fashion. We therefore undertook a study of mitochondrial transcripts in cells over-expressing or knocked down for mTERF. Surprisingly, we found that varying the level of mTERF over a wide range has only a small effect on the levels of sense-strand transcripts of the mitochondrial genome in the rDNA region. Conversely, we detected a clear effect on the relative amounts of antisense transcripts on the two sides of the high-affinity binding site. These findings support a role for mTERF in influencing mitochondrial transcription in vivo, but not in setting the levels of mature mitochondrial transcripts.
Conclusions
In summary, our findings support a role for mTERF in influencing mitochondrial transcription in vivo, even though it does not appear to set the levels of mature mitochondrial transcripts encoded by the PH1 and PH2 heavy-strand transcription units in a simple manner. It appears to modulate the levels of antisense transcripts, by implication regulating the extent of readthrough by the transcriptional machinery of its high-affinity binding site in the tRNALeu(UUR) gene, as well as other, weaker mTERF binding sites in the vicinity. Further experiments will now be required to resolve the functional significance of this regulation, and its possible relevance to DNA replication and other processes.
Methods
Cell-lines and cell culture
HEK293T cells and derivatives were cultured in Dulbecco's modified Eagle's medium (DMEM, Sigma) as previously [16]. HEK293T-derived cell-clones over-expressing natural mTERF were created by recloning the mTERF coding sequence, including its natural stop codon, into the expression vector pcDNA3.1/hygro(-) (Invitrogen) as a Bam HI/HindIII fragment. Aliquots of the sequence-verified plasmid DNA (1 μg) were transfected into HEK293T cells using Lipofectamine™ (Invitrogen) diluted in 1 ml of Opti-MEM® (Invitrogen) according to the manufacturer's protocol. Twenty four hours later cells were either harvested (for transient transfection) or placed under hygromycin selection (Calbiochem, 200 μg/ml). Hygromycin-resistant colonies were grown up and tested for expression of the mTERF transgene by reverse transcriptase (RT)-PCR and by electrophoretic mobility shift assay (EMSA) as described in Additional File 1. Flp-In™ T-Rex™ 293 cells transfected with expression constructs for natural mTERF and for epitope-tagged mTERF-MycHis, as well as their induction by doxycycline, were as described previously [16]. mTERF-specific RNA interference was induced by siRNA for 48 h as described previously [16] or by transfection (using Lipofectamine™ 2000, Invitrogen, manufacturer's protocol) with a customized shRNA construct (10 μg) targeting the following sequence within mTERF mRNA (5' to 3'): GCUGUAACUUGAGUACUUU, Open Biosystems Expression Arrest™ pSM2 Retroviral shRNAmir Library, Oligo ID V2HS_95064 (Thermo Fisher Scientific, Huntsville, AL, USA). shRNA-transfected cells were harvested 48 h after transfection.
Depletion of mitochondrial RNA
Cells were passaged one day before adding ethidium bromide (EtBr) so that the 60 × 15 mm plates were approximately 50% confluent on the day of experiment. EtBr was added to the medium to 250 ng/ml and the cells were incubated for 48 h, after which the plates were approximately 90% confluent. Cells were then passaged at different densities so that each re-seeded plate would reach approximately 70-80% confluence when harvested for RNA extraction. RNA samples were collected before EtBr treatment (day -2), on the day when drug was washed away (day 0) and 24, 48, 72, 96 and 120 h after removing EtBr (days 1-5). To ensure complete removal of EtBr the medium was changed 3 h and 6 h after passaging the cells, and then again every day. Where depletion was carried out in combination with mTERF-directed RNA interference, siRNA transfection was carried out prior to the addition of EtBr (day -2) and was repeated 2 d after removal of the drug (day 2).
RNA extraction, electrophoresis and Northern blotting
Total RNA was extracted from cells using TRIzol® Reagent (Invitrogen) according to the manufacturer's instructions. Any traces of DNA were removed by treatment with RNase-free DNase I (GE Healthcare, manufacturer's recommended conditions), followed by standard acid phenol/chloroform extraction and isopropanol precipitation. For Northern blotting to tRNA probes RNA samples were electrophoresed at 4°C overnight at 100 V in neutral 12% acrylamide/7 M urea gels in TBE buffer, electroblotted onto Zeta-Probe GT membrane (Bio-Rad) at 4°C, u.v.-crosslinked and processed as described previously [50]. Oligonucleotide probes for mitochondrial tRNAs and cytosolic 5S rRNA were radiolabeled using T4 polynucleotide kinase (PNK, MBI Fermentas) according to the manufacturer's protocol and [γ-32P] ATP (Amersham Pharmacia Biotech, 3000 Ci/mmol) and purified using mini Quick Spin Columns (Roche). The probe oligonucleotide sequences were as follows (all 5' to 3'): 5S - GGGTGGTATGGCCGTAGAC, tRNALeu(UUR) - GTTTTATGCGATTACCGGGC and tRNAPhe - CTAAACATTTTCAGTGTATTGC. Hybridization, washing, autoradiography and phosphorimaging (Phosphorimager SI, Molecular Dynamics) were as described previously [51]. For re-probing, the membranes were stripped by boiling in 0.5% SDS solution for 3 min and cooled to room temperature. For Northern blotting to 16S rRNA or ND1 probes, RNA samples were fractionated on formaldehyde agarose gels and processed for blotting and hybridization as described previously [51], using probes labelled by random-priming [50]. The template used for synthesis of the ND1 probe was as described previously [50]; that for 16S rRNA was the shorter Apa I digestion product (230 bp) from the same fragment.
Quantitative RT-PCR
Quantitative RT-PCR was used to estimate the relative amounts of 12S and16S rRNA, ND1 mRNA, cytosolic 18S rRNA and mTERF mRNA. For cDNA synthesis, 5 μg of RNA was reversed transcribed using 40 units of M-MuLV reverse transcriptase (Fermentas), primed by 0.2 μg random hexamers (Pharmacia) in a 20 μl reaction according to manufacturer's instructions. Three dilutions of each cDNA sample (1:10, 1:20 and 1:50) were analysed, and each reaction was performed in three technical replicates. PCR reactions were performed in a LightCycler™ apparatus using LightCycler FastStart DNA Master SYBR Green I kit (Roche) according to the manufacturer's instructions, with the following primer pairs (all 5' to 3') and annealing temperatures: for 18S rRNA, 18Sfor3 - GACGATCAGATACCGTCGTA and 18Srev3 -TGAGGTTTCCCGTGTTGAGT, 52°C; for 16S rRNA, 16Sfor1 - GGTAGAGGCGACAAACCTACCG and 16Srev1 - TTTAGGCCTACTATGGGTGT, 50°C; for ND1 mRNA, ND1for1 - GGCCAACCTCCTACTCC and ND1rev1 - GATGGTAGATGTGGCGGGTT, 50°C. cDNA synthesized from 5 μg of RNA pooled from different cell-lines was used to prepare the standard curve, based on a five-fold dilution series. The homogeneity of all products was checked after each run by melting curve analysis. For strand-specific analysis to distinguish antisense from sense transcripts, 20 pmol of specific primer (TIB MOLBIOL, Berlin, Germany, see Additional File 1, Table S1) were used in the RT step. The PCR step used custom-designed sets of primers and proximity-hybridization probes (TIB MOLBIOL, Berlin, Germany, see Additional File 1, Table S1), with LightCycler(R) FastStart DNA Master HybProbe kit (Roche), according to manufacturer's instructions, and annealing temperatures listed in Additional File 1, Table S1 for each primer pair. The homogeneity of the products was checked after each run by melting curve analysis, according to the annealing temperatures of the hybridization probes as listed in Additional File 1, Table S1. Three dilutions (1:10, 1:20 and 1:50) were analysed from each cDNA. The level of mTERF mRNA relative to 18S rRNA was measured similarly, using hybridization probe sets M1 and C1 (see Additional File 1, Table S1), except that cDNA primed with random hexamers was used as template.
Declarations
Acknowledgements
We thank Academy of Finland, Sigrid Juselius Foundation and Tampere University Hospital Medical Research Fund for financial support, and Outi Kurronen, Merja Jokela and Tea Tuomela for technical assistance. We also thank Hans Spelbrink, Ian Holt, Marina Toompuu, Gertjan Hakkaart, Anja Rovio, Kia and Esko Kemppainen and Rimmy Manjiry for advice and useful discussions.
Authors' Affiliations
(1)
Institute of Medical Technology and Tampere University Hospital, University of Tampere, Finland
(2)
Research Program of Molecular Neurology, University of Helsinki, Finland
Copyright
© Hyvärinen et al; licensee BioMed Central Ltd. 2010
This article is published under license to BioMed Central Ltd. This is an Open Access article distributed under the terms of the Creative Commons Attribution License (http://creativecommons.org/licenses/by/2.0), which permits unrestricted use, distribution, and reproduction in any medium, provided the original work is properly cited.