Research article
Open Access
Alternative trans-splicing of Caenorhabditis elegans sma-9/schnurri generates a short transcript that provides tissue-specific function in BMP signaling
BMC Molecular Biology
2010
11:46
Received: 3 March 2010
Accepted: 17 June 2010
Published: 17 June 2010
Abstract
Background
Transcription cofactors related to Drosophila Schnurri facilitate the transcriptional programs regulated by BMP signaling in C. elegans, Drosophila, Xenopus, and mouse. In different systems, Schnurri homologs have been shown to act as either agonists or antagonists of Smad function, and as either positive or negative regulators of transcription. How Schnurri proteins achieve this diversity of activities is not clear. The C. elegans sma-9/schnurri locus undergoes alternative splicing, including an unusual trans-splicing event that could generate two non-overlapping shorter transcripts.
Results
We demonstrate here that the shorter transcripts are expressed in vivo. Furthermore, we find that one of the short transcripts plays a tissue-specific role in sma-9 function, contributing to the patterning of male-specific sensory rays, but not to the regulation of body size. Based on previous results, we suggest that this transcript encodes a C-terminal SMA-9 isoform that may provide transcriptional activation activity, while full length isoforms may mediate transcriptional repression and/or activation in a context-dependent manner.
Conclusion
The alternative trans-splicing of sma-9 may contribute to the diversity of functions necessary to mediate tissue-specific outputs of BMP signaling.
Keywords
Premature Termination CodonShort TranscriptSplice LeaderMale TailTranscription Cofactor
Background
The transforming growth factor β (TGFβ) superfamily comprises a large number of secreted peptide growth factors that have major regulatory effects on cell growth and differentiation [1, 2]. Members of this superfamily include the TGFβs, the prototypes of the superfamily; the bone morphogenetic proteins (BMPs); and other members such as activin, inhibin, and Nodal. TGFβ superfamily ligands bind to a heteromeric receptor complex at the cell surface. This complex contains two related transmembrane serine/threonine kinases, the type I and type II receptors [3, 4]. Signaling downstream of the receptors is mediated by the Smad proteins, which shuttle between the cytoplasm and nucleus to regulate target gene expression [5]. Type I receptors directly activate receptor-regulated Smads (R-Smads) by phosphorylation at C-terminal SXS sequences [6, 7]. Phosphorylation of R-Smads promotes heterotrimeric complex formation with Co-Smads and accumulation in the nucleus to regulate gene transcription [7–11]. In mammals, five R-Smads are present: two (Smad2,3) that transduce TGFβ/activin/Nodal signals and three (Smad1,5,8) that transduce BMP signals. Strikingly, the TGFβ family ligands far outnumber the Smads available for signal transduction. Furthermore, many of these ligands are capable of eliciting diverse context-dependent responses. Thus, Smad complexes must be capable of mediating multiple diverse outcomes. It is thought that Smad complexes rely in part on transcription cofactors for appropriate regulation of target genes.
In the nematode Caenorhabditis elegans, the BMP-related factor DBL-1 regulates body size and male tail morphogenesis via a conserved receptor/Smad signaling pathway [12]. Using a genetic approach to uncover components of this pathway, we previously identified sma-9, a gene that is required for the body size and male tail patterning functions of DBL-1 [13]. sma-9 is also required for patterning of the mesodermal lineage, in which it acts antagonistically to the DBL-1 pathway [14]. sma-9 is predicted to encode multiple protein products homologous to Drosophila Schnurri, a large zinc finger transcription cofactor that functions in Dpp/BMP signaling [15, 16]. Analysis of sma-9 therefore provides the opportunity to elucidate the requirements for transcription cofactor function in an in vivo model system during the course of development. In addition to Drosophila Schnurri and C. elegans SMA-9/Schnurri, three vertebrate Schnurri homologs have been identified. These bind the κB-binding site and function in T cell development [17–19]. Notably, vertebrate Schnurri homologs have more recently been demonstrated to mediate transcriptional regulation downstream of BMP and TGFβ ligands, indicating a conserved role for these family members in TGFβ signal transduction [20–22].
The sma-9 open reading frame (ORF) predicted from genomic sequence encodes a protein of 2170 aa consisting of an N-terminal Gln-rich domain (encoded by predicted exons 1-3) and a C-terminal domain containing seven Zn fingers (in predicted exons 12-22). The sequencing of cDNA clones, however, revealed at least eight different mRNA species with alternative protein coding regions [13]. Interestingly, like sma-9, human Shn-1 and Shn-3 genes undergo alternative splicing [23, 24], but the functional consequences of this processing have not been addressed. The sma-9 cDNA clones were classified based on their potential to code for the seven C-terminal Zn fingers: class I encodes all seven Zn fingers (ZF1-7), class II encodes the first pair and the triplet of Zn fingers (ZF1-5), and class III encodes only the first pair (ZF1-2). To determine whether these domains have different functions in vivo, Foehr et al. created genomic/cDNA hybrid constructs and tested their ability to rescue the body size and mesodermal patterning defects of sma-9 mutants [14]. They found that constructs encoding class I and class II C-termini were capable of rescuing both phenotypes, while the class III construct was not, suggesting that the presence of the Zn finger triplet is critical for function in body size and mesodermal lineage regulation.
Since
sma-9
is a large gene, most of the existing cDNA clones contain incomplete coding sequences that are missing the 5' end of the gene. Two cDNA clones,
yk1285a11
and
yk1237d01
, however, are notably different (Figure
1
). Although these two cDNA clones are less than half the length of the predicted transcript, both of them have all of the hallmarks of a full-length cDNA:
trans
-spliced leader sequence, poly(A) tail, and a complete ORF. In
C. elegans
, many transcripts are processed at the 5' end by
trans-
splicing, which results in the addition of a 22-nucleotide splice leader sequence, SL1 or SL2 [
25
]. The mechanism of
trans
-splicing is similar to that of
cis-
splicing (intron removal), except that the splice donor sequences are provided by the SL1 and SL2 genes, rather than being contained within the context of the individual gene [
25
]. About half of all
C. elegans
genes are subjected to SL1
trans
-splicing at the 5' end. A smaller subset of
C. elegans
genes are transcribed in polycistronic operons. In an operon, the 5'-most gene generally receives the SL1 splice leader. The individual downstream genes in an operon are then separated via SL2
trans
-splicing to the 5' ends of each of the downstream genes. SL2
trans
-splicing is accompanied by polyadenylation to create the 3' end of the neighboring gene upstream.
yk1285a11
contains the SL1 splice leader and sequences from predicted exons 1-7.
yk1237d01
contains the SL2 splice leader and sequences from predicted exons 11-25. As previously noted [
13
], the putative intercistronic region contains features reminiscent of the identified signals for
trans
-splicing, including a U-rich sequence, but is atypically long [
26
,
27
]. Thus, the structures of the
sma-9
cDNA clones
yk1285a11
and
yk1237d01
suggest that they may represent two transcripts processed from a single longer transcript by SL2
trans
-splicing and polyadenylation as normally occurs in a
C. elegans
polycistronic operon.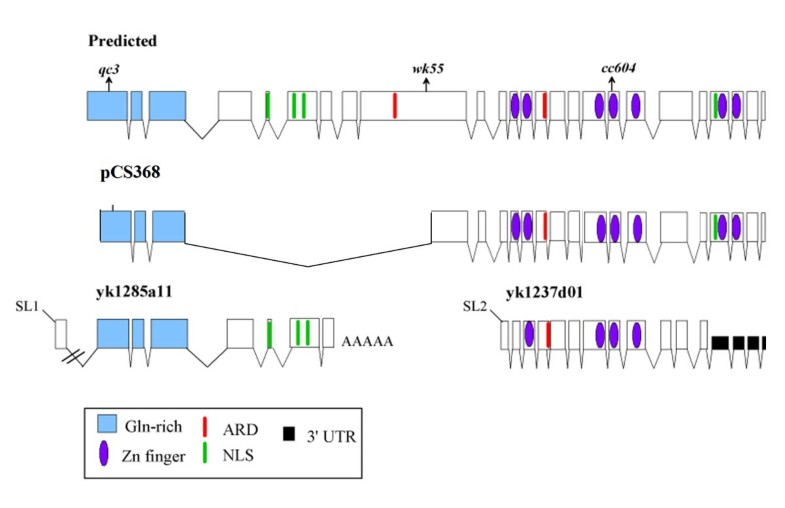 Since each of these trans- spliced short sma-9 transcripts was only represented by a single cDNA clone, we could not be certain that the clones were not due to cloning artifacts or a rare spurious event. Furthermore, our previous analysis did not address whether these short transcripts provide any function required for DBL-1 signal transduction. We therefore address here several remaining questions about these predicted transcripts. First, can we verify that the mRNA variants represented by yk1285a11 and yk1237d01 are expressed in vivo, rather than being artifacts produced during cDNA library construction? If so, then how is the expression of these variants regulated? Finally, do these variants show functional differences between each other and/or relative to full-length transcripts in vivo? In this work, we will refer to the splice variants represented by clones yk1285a11 (5') and yk1237d01 (3') as A11 and D01, respectively.
Discussion
We have shown here that the C. elegans sma-9/schnurri locus undergoes a novel trans-splicing process to generate two shorter transcripts, one of which has a tissue-specific function in DBL-1/BMP signaling. First, we have demonstrated that an SL2 trans-spliced, truncated cDNA form, yk1237d01 (D01), represents an actual mRNA that is detectable by RT-PCR. Second, we have verified that longer transcripts containing both the 5' and 3' ends of the gene are also detectable by RT-PCR. Third, loss-of-function experiments (RNAi and premature termination mutants) demonstrate that the short transcript D01 is necessary but not sufficient for male tail patterning, since depletion of both D01 and full-length transcripts causes a more severe male tail patterning defect than depletion of full-length transcripts alone. Fourth, gain-of-function experiments (heat shock-induced overexpression) indicate that the short transcript D01 can partially rescue male tail but not body size defects of sma-9 mutants. In contrast to the results on D01, we find for the yk1285a11 (A11) transcript little or no evidence of an in vivo function, as well as low abundance throughout development. In addition, class I and II full-length transcripts and the D01 short transcript, but not the A11 transcript, encode the Zn finger triplet domain shown to be critical in the regulation of body size and mesodermal patterning [14]. In Drosophila, this domain is also critical in mediating Dpp-responsive target gene regulation [35]. The gene product encoded by the A11 transcript lacks this domain and may therefore not be capable of being recruited to target genes. Why then is the A11 transcript detected at all? One possibility is that it is generated as a byproduct of the trans-splicing mechanism that generates D01.
Since we have shown that full-length transcripts and D01 transcripts are each necessary but not sufficient for male tail patterning, we must consider what differences in molecular function are found in the respective gene products. In other organisms, Schnurri homologs have been shown to act either as transcriptional activators [20, 21, 36] or as transcriptional repressors [16, 37] mediating BMP-dependent transcription. Strikingly, Yao et al. [21] have shown by swapping Drosophila and Xenopus Schnurri homologs that transcriptional activation or repression activities may be context-dependent rather than an intrinsic property of the protein. In C. elegans, we have previously analyzed intrinsic transcriptional activities of SMA-9 protein domains using a heterologous transcription assay [33]. In these experiments, the acidic residue-rich domain (ARD) in exon 14 exhibited transcriptional activator activity, while the N-terminal region of SMA-9 displayed intrinsic transcriptional repressor activity [33]. Full-length sma-9 transcripts should encode protein products containing both of these transcriptional domains, so that their transcriptional activities may be context-dependent as was described for Drosophila and Xenopus Schnurri [21]. On the other hand, D01 transcripts encode products containing solely the transcriptional activation domain (Figure 1). We therefore hypothesize that full-length SMA-9 isoforms function as transcriptional repressors or activators depending on context, while D01-encoded isoforms may be obligate transcriptional activators. This transcriptional activation activity may be necessary for the robust activation of sma-9 target genes in sensory ray development, but may be dispensable in body size regulation. Consistent with this hypothesis, a SMA-9 Zn finger domain fusion with a known transcriptional activator, VP16, can partially rescue the male tail defects but not the body size defects of sma-9 mutants. In contrast to the SMA-9::VP16 fusion, a SMA-9::enR repression domain fusion rescues body size, suggesting that transcriptional repression is more important than activation for SMA-9 activity in body size regulation [33]. Overall, the in vivo activity of the SMA-9::VP16 fusion is strikingly similar to that of the D01 isoform.
Alternative splicing is regulated by trans-acting factors that influence the choice of splice sites. It will be of interest to determine the trans- acting factors that regulate alternative trans- splicing of sma-9. In preliminary experiments, we tested whether sma-9 trans- splicing depends on mec-8, which encodes an RNA recognition motif-containing protein that regulates alternative splicing in the hypodermis [38, 39]. We found that A11, D01, and exon 9-containing transcript levels were all reduced 2- to 5-fold in mec-8 mutants relative to N2 (data not shown). If mec-8 were directly involved in processing the short transcripts from a longer precursor, we expected to find reciprocal changes in accumulation of the full-length transcripts relative to short transcripts. Our results are therefore not sufficiently clear to draw a conclusion as to whether MEC-8 is directly involved in sma-9 trans- splicing, and additional investigations will be necessary to identify the trans- acting factors that mediate this reaction.
A variety of genetic mechanisms exist for generating diverse functions from a single genetic locus, including those that affect transcript structure such as alternative splicing, alternative transcriptional start sites, and alternative polyadenylation. One prominent example of alternative splicing is the regulation of sex determination in Drosophila by Sex-lethal [40]. This system also uses developmentally regulated alternative promoters. In C. elegans, extensive use of alternative promoters leading to different protein isoforms has been documented [41]. Alternative polyadenylation can also lead to the production of truncated protein variants, such as in the daf-4 BMP receptor gene in C. elegans, in which alternative polyadenylation leads to the production of a secreted negative inhibitor of DAF-4 signaling [42]. To our knowledge, alternative trans-splicing as we have characterized it for sma-9 has not previously been reported for other loci in C. elegans. The unique feature of this trans-splicing event is the choice between processing the transcript via cis- or trans- splicing at the splice acceptor site of predicted exon 11. In an organism without trans-splicing, a similar truncation could be achieved via use of a downstream transcriptional start site or via proteolytic cleavage. For example, in the Hedgehog signaling pathway, full-length transcription factors of the Ci/Gli family are transcriptional activators that, upon proteolytic cleavage, are converted to transcriptional repressors [43]. We speculate that since the trans-splicing machinery exists in C. elegans, it was available to be recruited for this unusual role in the sma-9 locus.
Conclusions
Both C. elegans sma-9/schnurri[13] and the human homologs Shn-1 and Shn-3 [23, 24] display alternative splicing that is predicted to result in multiple protein isoforms. For most of these isoforms, however, no specific in vivo function has been described. We have now demonstrated a functional role for an alternatively trans- spliced sma-9 short transcript represented by cDNA clone yk1237d01 (D01). This transcript mediates a tissue-specific role, since it is required for sensory ray development but not for body size regulation. Our results provide insight into how a single genetic locus can contribute to diverse protein functions.
Declarations
Acknowledgements
We thank Jun Kelly Liu for sharing reagents and for helpful discussions. Some of the experiments were done with equipment from the Core Facilities for Imaging, Cellular and Molecular Biology at Queens College. Some C. elegans mutant strains were obtained from the Caenorhabditis Genetics Center, which is supported by the NIH National Center for Research Resources (NCRR). This work was carried out in partial fulfillment of the requirements for the Ph.D. degree from the Graduate Center of City University of New York (J.Y.). This research was supported by RSG-98-230-04-DDC from the American Cancer Society to C.S.-D.
Authors' Affiliations
(1)
Department of Biology, Queens College, and Biochemistry PhD Program, the Graduate School and University Center, the City University of New York, Flushing, USA
Copyright
© Yin et al; licensee BioMed Central Ltd. 2010
This article is published under license to BioMed Central Ltd. This is an Open Access article distributed under the terms of the Creative Commons Attribution License (http://creativecommons.org/licenses/by/2.0), which permits unrestricted use, distribution, and reproduction in any medium, provided the original work is properly cited.