Research article

Open Access
DNA deformability changes of single base pair mutants within CDE binding sites in S. Cerevisiae centromere DNA correlate with measured chromosomal loss rates and CDE binding site symmetries
BMC Molecular Biology
2006
7:12
Received: 31 August 2005
Accepted: 16 March 2006
Published: 16 March 2006
Abstract
Background
The centromeres in yeast (S. cerevisiae) are organized by short DNA sequences (125 bp) on each chromosome consisting of 2 conserved elements: CDEI and CDEIII spaced by a CDEII region. CDEI and CDEIII are critical sequence specific protein binding sites necessary for correct centromere formation and following assembly with proteins, are positioned near each other on a specialized nucleosome. Hegemann et al. BioEssays 1993, 15: 451–460 reported single base DNA mutants within the critical CDEI and CDEIII binding sites on the centromere of chromosome 6 and quantitated centromere loss of function, which they measured as loss rates for the different chromosome 6 mutants during cell division. Olson et al. Proc Natl Acad Sci USA 1998, 95: 11163–11168 reported the use of protein-DNA crystallography data to produce a DNA dinucleotide protein deformability energetic scale (PD-scale) that describes local DNA deformability by sequence specific binding proteins. We have used the PD-scale to investigate the DNA sequence dependence of the yeast chromosome 6 mutants' loss rate data. Each single base mutant changes 2 PD-scale values at that changed base position relative to the wild type. In this study, we have utilized these mutants to demonstrate a correlation between the change in DNA deformability of the CDEI and CDEIII core sites and the overall experimentally measured chromosome loss rates of the chromosome 6 mutants.
Results
In the CDE I and CDEIII core binding regions an increase in the magnitude of change in deformability of chromosome 6 single base mutants with respect to the wild type correlates to an increase in the measured chromosome loss rate. These correlations were found to be significant relative to 105 Monte Carlo randomizations of the dinucleotide PD-scale applied to the same calculation. A net loss of deformability also tends to increase the loss rate. Binding site position specific, 4 data-point correlations were also created using the wild type sequence and the 3 associated alternate base mutants at each binding site position. These position specific slope magnitudes, or sensitivities, correlated with and reflected the underlying position symmetry of the DNA binding sequences.
Conclusion
These results suggest the utility of correlating quantitative aspects of sequence specific protein-DNA complex single base mutants with changes in the easily calculated PD-deformability scale of the individual DNA sequence mutants. Using this PD approach, it may be possible in the future to understand the magnitude of biological or energetic functional effects of specific DNA sequence mutants within DNA-protein complexes in terms of their effect on DNA deformability.
Keywords
Loss Rate
Relative Closeness
Single Base Mutant
High Loss Rate
Slope Magnitude
Background
The centromeres in the yeast,
S. cerevisiae
, are organized on short DNA sequences (125 bp) on each of the 16 chromosomes consisting of 3 elements, CDEI, CDEII, and CDEIII, as shown in Figure
1
. CDEI is a conserved 8 bp element (positions 1–8 in Figure
1
) with a 6 bp palindrome. CDEII is an approximately 78–86 bp A+T base rich, length conserved sequence located between the other two elements. CDEIII is a 26 bp conserved element with a 7 bp core palindrome-bold arrows in Figure
1
. Following assembly with sequence specific binding proteins, CDEI and CDEIII are positioned near each other on a specialized nucleosome (inset in Figure
1
) and are critical assembly sites for additional specific protein-protein interactions necessary for correct centromere formation [
1
,
2
]. The Cbf1p protein binds as a homodimer to CDEI, while CBF3 is a multi-protein complex that binds to CDEIII. There is also evidence supporting a subsequent interaction between Cbf1p and CBF3 [
3
,
4
], although this may be mediated through additional proteins [
5
]. These proteins form part of the inner kinetochore structure that, with additional protein kinetochore layers, is attached to the microtubule [
6
]. The microtubule is part of a spindle apparatus in the dividing yeast cell that is responsible for correct segregation of each chromosome into the daughter cells during cell division.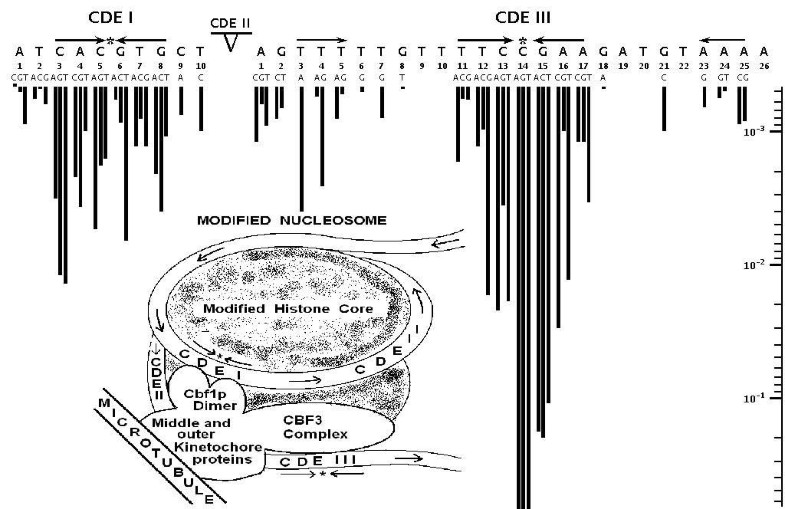 In a detailed genetic mapping study of the centromere of chromosome 6, Hegemann et al [7] produced 67 single base DNA mutants within the critical CDEI and CDEIII binding sites and measured chromosome fragment loss rates for all the chromosome 6 mutants during mitosis. While no specific error ranges were presented in this study, the researchers indicated that repeated data points were within 10% of each other [8]. All possible single base mutants were tested for the 8 bp CDEI element which has a center of symmetry between positions 5 and 6. Similarly, all possible single base mutants were tested for positions 11–17 of the CDEIII element, which forms the highly conserved core 7 bp palindrome with a center of symmetry at position 14. These areas are referred to as the 'core' protein binding sequences in our study due to their base conservation and elevated loss rates. In Figure 1 below we show each base position and present the magnitude of the measured chromosome loss rate for each base mutant as vertical lines, where the length of each line is proportional to the loge (chromosome loss rate).
The current state of knowledge in understanding DNA-protein interactions posits that DNA sequence specific recognition by its cognate protein may happen by a combination of both direct and indirect readout of a DNA sequence [9]. Direct readout would correspond to specific functional groups in the DNA major and minor grooves, including tightly bound waters of hydration, interacting with specific amino acid residue features of the 3-D structured protein. Indirect readout would correspond to features such as characteristic distortions of the DNA sequence that may not be entirely sequence specific. A type of indirect readout of DNA is that characteristic of the deformation brought about by sequence specific protein binding. Olson et al [10] have used crystallography data on nearly 100 protein-DNA complexes to produce a type of indirect readout scale, the dinucleotide protein deformability energetic scale (PD-scale), that describes the average DNA deformability by sequence specific binding proteins. The relative positions of adjacent planar base pairs are calculated in terms of the 6 dimensional parameters: twist, roll, tilt, shift, slide and rise. From these calculations, each of the 10 unique dinucleotides was assigned a single number that represents the multidimensional volume of energetic states found for that dinucleotide. That numerical PD-scale value for each dinucleotide is a representation of the average overall deformability for that dinucleotide by sequence specific binding proteins.
In this study, we have demonstrated novel correlations between the chromosome 6 single base pair mutants' chromosome loss rate data obtained by Hegemann et.al., [7], expressed in the loge form, and the PD-scale differences for each single base mutant calculated from the difference between each mutant and the wild type DNA. The correlations were observed for both CDEI and CDEIII binding sites. We also examined each binding site position's specific 4 data-point correlation, created using the wild type sequence and the 3 associated alternate base mutants' chromosome loss data for that position. Slope magnitudes from these position-specific correlations were found to be symmetric about the center of symmetry of both the CDEI and CDEIII sites. The slopes quantitatively represent symmetric energetic/functional aspects of the assembled centromere in vivo and reflect the underlying symmetry of the palindromic DNA binding sequences. Monte Carlo statistical controls were performed to demonstrate the significance of the observed correlations.
Results and discussion
Sequence specific protein-DNA binding events play many key roles in cells, ranging from dominant roles in the regulation of gene expression to critical roles in correctly segregating sister chromatids during cell division, the role relevant to the system we examine here. The ongoing efforts to leverage the growing numbers of high resolution X-ray crystallography and NMR structures to identify a useful DNA-protein 'interaction code' continues with modest success [
11
]. Some authors have described recognition in terms of direct and indirect readouts of DNA binding sequences by the protein. A type of indirect readout of any sequence is provided by scales that describe how the DNA is deformed by protein binding. One such scale, the simple PD-scale determined from these high resolution structure data, forms part of that effort to identify an 'interaction code'. Use of the PD-scale has achieved some successes; for example, in helping to understand the energetic signature of transposon target sequences [
12
] and receptor response elements [
13
]. Applying the PD-scale to the CDEI and CDEIII core binding sites and their single base mutants, we present in Figure
2
the PD-scale energetic signatures for each site. There is a clear significant difference between the two sites. CDEI has the characteristic seesaw deformability pattern observed in other protein binding sites [
12
] with a roughly uniform distribution of pyrimidine (Y) and purine (R) bases. It is also symmetric about the center of symmetry of the CDEI site. CDEIII however is more unusual with its poly-Y, poly-R half-site arms oriented toward a single critical peak at the center of the palindrome. The deformability peaks in both profiles correspond to the flexible YR dinucleotides that are frequently utilized in protein-DNA binding sites and are sometimes referred to as 'hinges.' [
10
] CDEIII DNA is the primary factor in determining centromere location [
2
,
6
]. However, this site possesses a relatively small number of conserved bases, leading some to speculate that additional indirect readout properties account for this specificity [
14
]. The isolated large deformability peak evident at the symmetry center of the palindrome is likely to play a key role in this recognition system.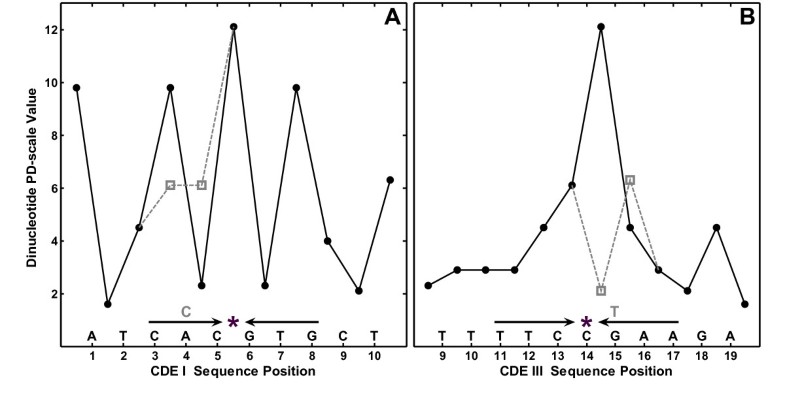 Conclusion
The PD-scale represents DNA dinucleotide based deformability energetics by sequence specific protein binding. We have investigated the use of calculating changes in the PD value of single base mutant sequences relative to the wild type sequence to demonstrate correlations with measured chromosome loss rates for these single base mutants within the core CDEI and CDEIII protein binding sites in the centromere of yeast chromosome 6. We have produced novel results that lead us to the following conclusions. The greater the magnitude of change in energetic deformability of a given mutant, the greater is its measured chromosome loss rate. Generally this is linear for the rate of loge (chromosome loss rate) increase per PD-scale unit change, with the value for CDEIII being over twice that of CDEI. This higher deformation sensitivity reflects the conclusions from the data presented in Table 1 and agrees with numerous experimental studies, indicating that CDEIII is more critical to correct chromosome segregation than is CDEI. A net decrease in energetic deformability tends to correlate to a higher loss rate. This is strongly expressed in the CDEIII site. The position specific site sensitivities, or slope magnitudes, reflect the underlying sequence symmetries of these two sites. Taken together, these data suggest that the PD-scale representation of the deformability energetics of a DNA sequence, is an important simple attribute of the DNA sequence that could be used in future studies to quantitate and understand the functional consequence of alterations in a DNA recognition sequence upon interaction with its sequence specific recognition protein.
Methods
We used the PD-scale of Olson et. al. [10] in the following way. The single base change in a mutant causes two adjacent dinucleotide PD-values to differ from the wild type (Figure 2). Let delta1 and delta2 be these differences, calculated by Mutant – Wild Type. Then delta1+delta2 is the signed PD-scale delta sum (signedPD), and is the net directional change in the PD scale attribute of the mutant with respect to the wild type. Similarly, |delta1|+|delta2| is the unsigned PD-scale delta sum (unsignedPD), and is the magnitude of the PD scale change. Each mutant's PD-scale delta sum is paired with the natural log of the chromosome loss rate forming a data point in our plots. The PD-scale delta sums and the loge (chromosomal loss rates) are used as the predictor and response values, respectively, for correlations using various groupings of these data points. Two types of groupings were used: larger groups of mutant data points without inclusion of the wild type data point and position specific, 4 data-point groups, comprised of the 3 associated alternate base mutant data points for a single position along with the wild type data point.
All of the correlations used standard linear techniques with a constant term. For each group, two separate regressions were performed: one using unsignedPD and one using signedPD. Additionally, 2 variable linear regressions were done for the larger groups using both signedPD and unsignedPD as predictor variables. While P-values for all parameters in the single and dual variable regressions were produced, control Monte Carlo based P-values were also calculated. This Monte Carlo method first randomly reassigned the 10 PD-scale values to the 10 unique dinucleotides and then performed the same correlations done with the real PD-scale values. This randomization process was repeated 100,000 times producing a distribution of R-values and, independently, slope values for each specific real-value regression performed. From these distributions, the probabilities of encountering a better correlation or a steeper slope than the actual values were obtained.
The position specific data are mainly only applicable to the core palindromic areas in CDEI & CDEIII, where all 3 mutants at the following positions were tested: CDEI 1–8 and CDEIII 11–17. The patterns of these regression values, relative to the center of symmetry, were the focus of our interest. Numerically, this symmetry is expressed by finding pairs of slope values close in magnitude. For CDEI, the symmetric position pairs are (5,6), (4,7), and (3,8); for CDEIII they are (13,15), (12,16), and (11,17). We expressed the relative closeness of two values, v1 and v2 as |v1-v2|/(|v1|+|v2|) allowing for a measure of the symmetry pattern by summing these 'relative closeness' values for all six pairs of symmetric positions. The value can range from 0 to 6, the lower the number, the more symmetric the result. Then, Monte Carlo techniques using random PD-scale values as described above were used to count the number of values less than the real value, giving a probability of obtaining better overall symmetric patterns than the actual.
The Mathworks' MATLAB® version 7.0.1 programming software and statistics toolbox was used to calculate regressions and results.
Abbreviations
Y-DNA:

pyrimidine base
R-DNA:

purine base
YR – DNA:

Pyrimidine-purine dinucleotide
Declarations
Acknowledgements
The authors acknowledge financial support from a CFCI Seed Grant at UML.
Authors' Affiliations
(1)
Department of Chemistry, Center for Intelligent Biomaterials, University of Massachusetts Lowell, Lowell, USA
Copyright
© Hennemuth and Marx; licensee BioMed Central Ltd. 2006
This article is published under license to BioMed Central Ltd. This is an Open Access article distributed under the terms of the Creative Commons Attribution License (http://creativecommons.org/licenses/by/2.0), which permits unrestricted use, distribution, and reproduction in any medium, provided the original work is properly cited.