Research article

Open Access
Sp1/3 and NF-1 mediate basal transcription of the human P2X1 gene in megakaryoblastic MEG-01 cells
BMC Molecular Biology
2006
7:10
Received: 28 October 2005
Accepted: 10 March 2006
Published: 10 March 2006
Abstract
Background
P2X1 receptors play an important role in platelet function as they can induce shape change, granule centralization and are also involved in thrombus formation. As platelets have no nuclei, the level of P2X1 expression depends on transcriptional regulation in megakaryocytes, the platelet precursor cell. Since nothing is known about the molecular mechanisms regulating megakaryocytic P2X1 expression, this study aimed to identify and functionally characterize the P2X1 core promoter utilized in the human megakaryoblastic cell line MEG-01.
Results
In order to identify cis-acting elements involved in the transcriptional regulation of P2X1 expression, the ability of 4.7 kb P2X1 upstream sequence to drive luciferase reporter gene expression was tested. Low promoter activity was detected in proliferating MEG-01 cells. This activity increased 20-fold after phorbol-12-myristate-13-acetate (PMA) induced differentiation. A transcription start site was detected 365 bp upstream of the start codon by primer extension. Deletion analysis of reporter constructs indicated a core promoter located within the region -68 to +149 bp that contained two Sp1 sites (named Sp1a and Sp1b) and an NF-1 site. Individual mutations of Sp1b or NF-1 binding sites severely reduced promoter activity whereas triple mutation of Sp1a, Sp1b and NF-1 sites completely abolished promoter activity in both untreated and PMA treated cells. Sp1/3 and NF-1 proteins were shown to bind their respective sites by EMSA and interaction of Sp1/3, NF-1 and TFIIB with the endogenous P2X1 core promoter in MEG-01 cells was demonstrated by chromatin immunoprecipitation. Alignment of P2X1 genes from human, chimp, rat, mouse and dog revealed consensus Sp1a, Sp1b and NF-1 binding sites in equivalent positions thereby demonstrating evolutionary conservation of these functionally important sites.
Conclusion
This study has identified and characterized the P2X1 promoter utilized in MEG-01 cells and shown that binding of Sp1/3 and NF-1 to elements in the direct vicinity of the transcription start site is essential for basal transcription. Targeting the function of these transcription factors in megakaryocytes may therefore provide a basis for the future therapeutic manipulation of platelet P2X1 function.
Keywords
Transcription Start Site
P2X1 Receptor
Core Promoter
Basal Transcription
Pet3
Background
P2X receptors comprise a family of membrane cation channels gated by extracellular ATP. Seven subtypes (P2X1–7), each encoded for by a separate gene, are present in mammalian species (reviewed by [1]) and these combine to form either homo or hetero trimeric channels [2, 3] exhibiting different expression profiles and functional properties. P2X1, the first subtype to be isolated, was cloned over a decade ago [4] and the physiological roles of this channel in the regulation of arterial tone [5] and in the neuronal control of smooth muscle contraction [6, 7] are well established. The presence of P2X1 receptors in platelets was discovered shortly after its cloning [8, 9], however, it has not been until more recent times that the physiological importance of P2X1 in platelet function has started to fully emerge (for review see [10]). Activation of platelet P2X1 receptors by extracellular ATP results in a rapid Ca2+ influx which activates cytoskeletal events to induce a transient but substantial shape change and granule centralization [11, 12], both important early events in platelet activation. P2X1 receptors can also synergize with P2Y, collagen, adrenaline and thrombopoietin receptor mediated responses [10] to enhance platelet function. Furthermore, over expression of P2X1 in the platelets of transgenic mice results in a prothrombotic phenotype [13] whereas an absence of the receptor in P2X1 knockout mice leads to a reduced risk of thrombosis [14] suggesting that the level of P2X1 receptor expression in platelets is of physiological and clinical significance.
Although the physiological roles and consequences of altered expression levels of platelet P2X1 receptors are becoming increasingly apparent, the mechanisms that regulate P2X1 expression in platelets are poorly understood. Since platelets are cell fragments devoid of any nuclei the complement of channels and receptors present on their surface must ultimately rely on the regulation of gene transcription in the megakaryocyte, the platelet precursor cell. bHLH factors and E proteins are thought to be involved in smooth muscle specific P2X1 transcription [15]. Nothing however is known about transcriptional regulation of P2X1 in megakaryoblastic cells. In order to initiate studies on the transcriptional mechanisms involved in determining P2X1 expression levels in platelets, we have identified and characterized the P2X1 promoter in the megakaryoblastic cell line MEG-01 [16]. We show that Sp1 and NF-1 regulatory elements located in the direct vicinity of the transcriptional start site are essential for basal transcription of P2X1 in MEG-01 cells.
Discussion
Regulation of P2X1 transcription in megakaryocytic cells is of physiological and clinical importance as ultimately this will influence the level of P2X1 receptor present on platelets, excessive activation of which can lead to thrombosis, cardiovascular disease and stroke. As a first step towards understanding the transcriptional mechanisms regulating P2X1 expression in megakaryocytic cells, we have analyzed the P2X1 promoter in MEG-01 cells. We identified a transcription start site 365 bp upstream of the start codon and defined a core promoter located within the region -68 to +149 bp. Two Sp1 sites and an NF-1 site in the core promoter were shown to be critical for basal transcription.
The P2X1 core promoter was found not to possess "TATA" or "CCAAT" elements but contained Sp1 and NF-1 sites critical for basal transcription. Mammalian promoters lacking a TATA box often contain Sp1 elements and rely on Sp1 to recruit TATA-binding protein and guide RNA polymerase II to the initiator site [29–31]. Sp1 and Sp3 are members of a large family of transcription factors that regulate transcription through interactions with GC-boxes. They are both zinc finger proteins that bind the same DNA recognition sequences with similar affinity [32]. Despite ubiquitous expression, tissue-specific gene activation by Sp1 and Sp3 may be achieved by a variety of mechanisms including variability in the concentration of Sp1 and Sp3 [32], interactions of Sp1 with tissue specific transcription factors [33] and tissue specific post-translational modification of Sp1 and Sp3 [32]. Sp1/3 can regulate gene transcription through a variety of mechanisms, functioning as either a basal promoter element or an upstream activator, depending on promoter [34, 35]. Two Sp1/3 sites were identified in the P2X1 promoter and mutation of the Sp1b (+71 to +79) site most markedly reduced promoter activity. Single mutation of the Sp1a (+44 to +52) site did not significantly reduce transcription. However, simultaneous mutation of both Sp1a and Sp1b together entirely abolished transcriptional activity. Thus, the Sp1b site can completely compensate for the loss of the Sp1a site but Sp1a can only partially compensate for the loss of Sp1b suggesting that whilst both sites may be utilized in basal transcription, the Sp1b site plays a more prominent role.
An NF-1 site in the P2X1 core promoter was also found to be important for transcription. NF-1 proteins are recruited to promoters in a cell type specific manner and can associate with different regulators to either activate or repress transcription depending on the promoter and cellular context [36, 37]. Site-directed mutagenesis of the NF-1 site in the P2X1 core promoter significantly reduced transcriptional activity by ~80% (Figure 5). Simultaneous mutation of both NF-1 and Sp1b sites completely abolished promoter activity suggesting that NF-1 and Sp1/3 may act synergistically to recruit the initiation complex to the P2X1 core promoter.
The human P2X1 promoter identified in this study shows characteristics typical of those normally associated with housekeeping genes: lack of classical TATA or CCAAT boxes, an increased GC content and critical Sp1 and NF-1 elements [38]. This would appear ideally suited for P2X1 expression in megakaryocytes since constant synthesis is required for platelet production. Constitutive expression of P2X1 however does not occur in all hematic cell types and their progenitors as neutrophils, monocytes and lymphocytes show no significant expression of P2X1 [39, 40]. This suggests that tight repression of the P2X1 promoter occurs and that release from this repression may be an important feature of P2X1 transcriptional regulation. Deletion analysis performed in this study identified a repressive element in an upstream region containing a 396 bp polypyrimidine tract located -1801 to -1405. Removal of this tract in deletion constructs p-1398/+365 through to p-190/+365 resulted in a ~90–100% increase in promoter activity (Figure 2B). Polypyrimidine tracts can harbor multiple binding sites for Sp1 and Sp3 [41, 42] and play important roles in the regulation of gene transcription [43, 44]. A possible mechanism for the repressive effect of the P2X1 polypyrimidine tract could be that this region facilitates a local sequestration of Sp1/3 factors hindering their binding to the Sp1a and Sp1b sites further downstream in the core promoter.
Important transcriptional regulatory elements often show conservation between species [
45
]. We therefore investigated whether the NF-1, Sp1a and Sp1b binding sites identified in the human promoter are also present in the upstream sequence of
P2X
1
genes from other species. Using BLAST searches of genomic sequence data we identified
P2X
1
genes from mouse, chimp, dog and rat. Similar to human, the upstream regions of these genes were also GC-rich and contained no "TATA" or "CCAAT" elements. Sequence alignment revealed NF-1, Sp1a and Sp1b sites in identical positions across all species examined (Figure
7
). These results demonstrate a conserved core promoter structure in mammalian P2X
1
genes and suggest that the involvement of Sp1/3 and NF-1 in the regulation of
P2X
1
transcription has been conserved during evolution.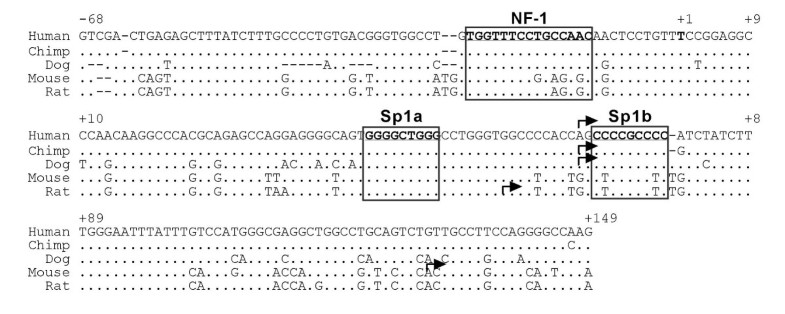 PMA-induced differentiation of MEG-01 cells is widely used as a model of megakaryocytic maturation and is known to increase the expression of megakaryocytic lineage specific antigens, such as integrin αIIbβ3 [22, 46]. PMA activates signaling cascades via activation of PKC and other C1 domain containing receptors resulting in a wide range of cellular effects [47]. PMA can enhance P2X1 mediated responses in MEG-01 [19], THP1 [39], and HL-60 [20] cells and is also thought to have more acute effects by increasing phosphorylation of a putative P2X1 accessory protein [48]. In this study, we found that P2X1 promoter activity increased ~20-fold in PMA-differentiated MEG-01 cells compared to untreated cells. Several studies have shown Sp1 DNA-binding activity and expression level to increase upon treatment of cells with PMA [49–53]. Similarly, PMA induction has been shown to increase the formation of NF-1 DNA complexes [54, 55]. We therefore speculate that PMA enhances P2X1 ion channel function through the actions of Sp1 and NF-1 at the P2X1 core promoter resulting in an increase in gene transcription and the synthesis of new P2X1 protein. The signaling pathways that link PMA stimulation with P2X1 gene activation and whether these result in alterations in the levels of Sp1 and NF-1 or in protein modifications such as phosphorylation altering the affinity of factors for their respective binding sites remain to be determined.
Conclusion
The in vivo control of P2X 1 transcription in megakaryocytes is undoubtedly a complex combinatorial process involving the integration of a large number of protein-protein and protein-DNA interactions that mediate cell type specific expression during megakaryocyte differentiation and the ability respond to regulatory inputs. This study provides the first steps towards unraveling the complexities of this control by providing the fundamental information of P2X 1 core promoter location and composition in a megakaryocytic cell line. We demonstrate that Sp1 and NF-1 are critical for P2X 1 core promoter function in both proliferating and PMA-differentiated MEG-01 cells. The targeting of signaling pathways that influence the function of these transcription factors in megakaryocytes may therefore provide the basis for the future therapeutic manipulation of platelet P2X1 function.
Methods
Reporter constructs
The human genomic BAC clone (RP11-167N20) containing the human P2X1 gene was obtained from the Sanger Institute. 4.772 kb upstream of the start codon was amplified by PCR using Pfu polymerase (Promega, Madison, WI) and cloned into pGL3-Basic (Promega). A series of 5' deletion constructs were created either by restriction enzyme digestion with Mlu I/Hind III or via a PCR based approach to introduce Mlu I/Hind III sites via primers.
Cell culture
MEG-01, HL-60 and Jurkat cells were purchased from the German National Resource Centre for Biological Material (DSMZ) and maintained at 37°C in 5% CO2 in RPMI 1640 medium supplemented with 10% heat-inactivated fetal bovine serum. HK2 cells were maintained in Dulbecco's modified Eagle's medium-Ham's F12 mix supplemented with 10% fetal bovine serum and 2 mM L-glutamine.
Site-directed mutagenesis
Point mutations were introduced into potential Sp1 and/or NF-1 binding sites by a two step cloning strategy. A 339 bp fragment (spanning from -190 to +149 bp) was cut from the P2X1 pGL3-Basic plasmid, cloned into the Mlu I/Hind III sites of pCR-Script™ and used as template for mutagenesis using the QuikChange™ system (Stratagene, La, Jolla CA). Mutated fragments were then re-cloned into the Mlu I/Hind III sites of the corresponding pGL3-Basic vectors. Double (mut1, mut2 and mut3) and triple-site (mut4) mutation constructs were generated by consecutive rounds of mutagenesis. The triple mutation construct p-4407(mut4) was generated by replacing a Sal I/Hind III fragment with the equivalent mutated Sal I/Hind III fragment from the plasmid mut4.
Mapping the P2X1 transcription start site
Poly(A) RNA was isolated from PMA (10 nM) treated MEG-01 cells using RNAWIZ™ total RNA and Poly(A) Purist™ mRNA purification kits (Ambion, Austin, TX). Extension of [γ-32P]ATP labeled primers (Figure 1) was performed using the Promega Primer Extension System (Promega, E3030). Size of extension products was determined by resolution on denaturing 8% polyacrylamide gels. Locations of the primers used are depicted in Figure 3.
Transient transfection and luciferase assays
For transient transfections 5 × 104 cells were plated in 96-well plates and incubated with 80 ng of P2X1 reporter plasmid, 20 ng of pRL-SV40 and 0.3 μl of transfection reagent (GeneJuice™, Novagen Madison, WI). The Renilla luciferase plasmid pRL-SV40 (Promega) was used as internal control for transfection efficiency. Following transfection, cells were cultured in the absence or presence of 10 nM PMA. The Dual-Glo™ Luciferase Assay (Promega) was used to determine firefly and renilla luciferase activity 48 hours after transfection in 96-well plates. Firefly luciferase activity was normalized to Renilla activity in each transfection. All plasmids were purified using Qiagen columns (Qiagen, Valencia CA) and at least two preparations per plasmid were tested. Transfections were done in triplicate in each experiment and at least 3 experiments were performed for each construct. Data are presented as means of experiments ± Standard error. Differences between means of control and experimental constructs were assessed by Dunnett's test. Differences between experimental constructs within a dataset were assessed using Tukey's multiple comparison test.
Electrophoretic mobility shift assays
Nuclear proteins were isolated from PMA-treated (10 nM, 48 hours) MEG-01 cells essentially as described by Hurst [56]. EMSAs were performed using the Promega EMSA kit on at least three different preparations of nuclear extract for each experiment. Bands that could not be competed by cold unlabelled oligonucleotide, consensus oligonucleotide or the non-specific competitor Poly dI-dC were classed as non-specific binding complexes. Nuclear protein (5.0 μg) was incubated with or without a 100-fold molar excess of unlabelled competitor DNA in 4% glycerol, 1 mM MgCl2, 0.5 mM dithiothreitol, 0.5 mM EDTA, 50 mM NaCl, 10 mM Tris-HCl, pH 7.5 and 2.0 μg poly (dI-dC) on ice for 15 minutes, followed by addition of the radiolabelled probe. For supershift assays, antibodies (Santa Cruz Biotechnology Inc, Santa Cruz, CA) were added to the reaction mixture 25 minutes prior to the probe. DNA-protein complexes were resolved by electrophoresis on 6% polyacrylamide gels. Commercial double-stranded oligonucleotides used were as follows: Sp1, 5'-ATTCGATCGGGGCGGGGCGAGC-3', (Promega); NF-1, 5'-TTTTGGATTGAAGCCAATATGATAA-3' (Santa Cruz). Other oligonucleotide sequences are shown in Table 1.
Chromatin Immunoprecipitation
Formaldehyde cross-linking and chromatin immunoprecipitation were performed as described by Okada and co-workers [57]. After PMA treatment for 48 hours, 2 × 106 cells were treated with formaldehyde for 10 minutes followed by the addition of 0.125 M glycine. Cells were washed twice in PBS and re-suspended in lysis buffer (1% SDS, 10 mM EDTA, 50 mM HEPES, 10 μl/ml Protease inhibitor Cocktail (Sigma) adjusted to pH 7.9 with KOH). After sonication to an average fragment size of 500 bp, protein-DNA cross-linked products were enriched by immunoprecipitation. Samples without antibody were included as negative controls. After reversal of cross links and DNA purification, the extent of enrichment was monitored by PCR using primers to P2X1, H4, and Hsp70 promoter fragments and to the coding region of GAPDH as negative control. The input sample was processed with the rest of the samples from the point at which the cross links were reversed.
Abbreviations
EMSA:

electrophoretic mobility shift assay
PMA:

phorbol-12-myristate-13-acetate
S.E:

standard error
ChIP:

chromatin immunoprecipitation.
Declarations
Acknowledgements
We thank Dr Gary Willars for advice on statistical analysis and Dr Tania Webb for critical review of the manuscript. This work was funded by Biotechnology and Biological Sciences Research Council UK
Authors' Affiliations
(1)
Department of Cell Physiology and Pharmacology, University of Leicester, Leicester, UK
Copyright
© Zhao and Ennion; licensee BioMed Central Ltd. 2006
This article is published under license to BioMed Central Ltd. This is an Open Access article distributed under the terms of the Creative Commons Attribution License (http://creativecommons.org/licenses/by/2.0), which permits unrestricted use, distribution, and reproduction in any medium, provided the original work is properly cited.